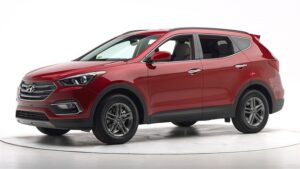 Hyundai Motor Company is recalling tens of thousands of Santa Fe Sport SUVs amid concerns that problem with the anti-lock brake computers could spark a fire, even when a vehicle is parked.
While owners of the recalled SUVs can continue to drive their vehicles, they are advised to park outside, away from structures and other vehicles until the issue is resolved.
The Killino Firm's Auto Defect Injury Lawyers are committed to ensuring that anyone who was harmed or sustained damages in connection with the Hyundai Santa Fe Sport recall is fully compensated for their pain and suffering. If you were injured, lost a loved one, or suffered property damage due to a Hyundai Santa Fe Sport fire, please call our law firm toll-free at 877-875-2927 to speak with an attorney and learn more about your legal rights.
2018 Santa Fe Sport SUVs "Inadvertently Excluded" From Earlier Hyundai Recall
According to a notice from the National Highway Traffic Safety Administration (NHTSA), the Hyundai Santa Fe Sport recall involves around 44,000 model-year 2018 SUVs. The Anti-Lock Brake System (ABS) module could malfunction and cause an electrical short, which may result in an engine compartment fire while parked or driving.
"Out of an abundance of caution, Hyundai recommends parking these vehicles outside and away from structures until the recall remedy is completed," a Hyundai spokesperson said in a statement to The Washington Post. "All owners of the subject vehicles will be notified by first class mail with instructions to bring their vehicles to the nearest Hyundai dealership for replacement of the ABS module fuse."
The Santa Fe Sport recall follows a much larger action in February that involved almost 360,000 Hyundai vehicles, including the 2016-2018 Santa Fe, 2017-2018 Santa Fe Sport, 2019 Santa Fe XL, and 2014-2015 Tucson. That month, Hyundai's Kia brand also recalled nearly 127,000 2016-2018 K900 sedans and 2014-2016 Sportage SUVs for the same issue.
4 Hyundai Fires Linked to Defective ABS Modules
So far, Hyundai's faulty ABS modules have been linked to four engine compartment fires. The first occurred in August 2018, two occurred in June 2022, and a fourth was reported in September.
The third fire led the NHTSA to ask Hyundai why the 2018 Santa Fe Sport was not included in the previous recall. According to The Washington Post, Hyundai told regulators those vehicles were "inadvertently excluded" from the earlier recall.
So far, Hyundai SUV fires have not been linked to any crashes or injuries.
What Should I Do If I Own a Recalled Hyundai Vehicle?
Along with parking their Santa Fe Sports outside while they await needed repairs, vehicle owners should also remain alert for smoke coming from the engine compartment, a burning or melting odor, or the dashboard malfunction indicator light or anti-lock brake system light coming on.
Hyundai is currently working on a fix and says that owners will be notified by December 26th.
Owners may also contact Hyundai's customer service line at 855-371-9460 to coordinate repairs, referencing recall number 237. In addition to installing a replacement fuse to mitigate the fire risk at no charge, the company is also offering reimbursement associated with out-of-pocket expenses to arrange for repairs.
Nearly 1 Million Hyundai and Kia Vehicles Recalled for Engine Fire Risk
Since 2020, Hyundai and its Kia brand have recalled nearly 1 million vehicles over wiring issues that could cause an engine fire.
In October, Kia recalled 71,000 older-model SUVs over engine fire risks related to a different component of the anti-lock braking system. Owners of 2008 and 2009 Kia Sportages should also park outdoors and away from other structures or vehicles until the defect has been repaired.
In 2016, that issue resulted in a recall for the same group of Sportages. According to The Washington Post, Kia safety officers found corrosion on wiring in a major component of the vehicle's anti-lock braking system called the hydraulic electronic control unit or HECU. Kia dealers were instructed to inspect vehicles for corrosion and replace certain parts to mitigate the fire risk. But since then, the same HECU defect has been identified in other Kia and Hyundai models.
In 2021, Kia recalled an additional 440,000 vehicles because of HECU-related engine fire worries.
Stay Alert for Auto Recalls
Unfortunately, vehicle recalls are anything but rare. In fact, manufacturers announced 966 safety recalls affecting more than 53 million vehicles, vehicle components, and automotive equipment in 2019 alone.
To stay on top of recalls that might impact their vehicles, it's recommended that consumers:
Download the SaferCar app and let it check automatically for recalls.
Sign up at gov/Alerts to be notified by email if their vehicle is affected by a future recall.
If you believe your vehicle suffers from a safety defect that has yet to trigger a recall, contact the NHTSA online or by calling the Vehicle Safety Hotline at 888-327-4236, Monday through Friday, 8 a.m. to 8 p.m. ET.
Contact Us
Our Defective Product Lawyers have helped many victims of recalled vehicles and automotive components obtain compensation for their medical bills, lost wages, pain and suffering, and other associated damages. If you were injured, experienced the wrongful death of a loved one, or sustained property damage due to a Hyundai Santa Fe Sport engine fire, and you'd like to speak with an experienced attorney, please do not hesitate to contact the Killino Law Firm at 1-877-875-2927.