Child Injuries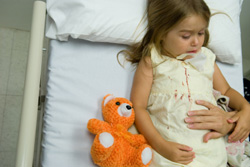 At The Killino Firm we know child safety; for instance, we filed a class action lawsuit against Mattel Inc., seeking to compel them to pay for medical testing of children who played with or were exposed to recalled toys.
The Killino Firm's highly trained and experienced legal team have a proven track record of success in handling child injury on both the individual and national level. If your child has been injured, contact the experienced attorneys at The Killino Firm today.
Class Action Lawsuit against Mattel Toys
The Killino Firm gained national recognition for its class action lawsuit against Mattel Inc. Although Mattel issued a recall of millions of Chinese-manufactured toys, The Killino Firm felt that was only the first step.
At The Killino Firm, we believe companies like Mattel have a responsibility to American consumers and should be held accountable for their actions.
Our attorneys are experts at digging deep and fighting so our children can be kept safe from toy manufacturers and other companies and individuals that want to save a few pennies but in the process put children's health at risk.
The Killino Firm's Child Injury Lawyers in the Media
From CNN to ABC and around the world, we make the news because we are dedicated to assuring our children are safe and secure. View The Killino Firm in the news here.
Although The Killino Firm has recovered millions in compensation for our clients, our true accomplishment is promoting a safer place for all of our children.
The Killino Firm: Experience, Knowledge, Results
The personal injury attorneys at The Killino Firm are committed to aggressively defending the rights of the injured. We handle each and every case with the same intensity and commitment as the class action lawsuit against Mattel.
The Killino Firm specialize in handling a range of serious child injury matters including:
According to the National Dissemination Center for Children with Disabilities, more than one million children receive brain injuries each year and more than 30,000 of these children will be permanently disabled as a result of the brain injury.
Such traumatic injuries can result in an injured child requiring lifelong medial care and assistance. These injuries can also result in expensive medical procedures and repeated surgeries to help the child recover. They can also cause emotional trauma that will affect the child for the rest of his or her life.
At The Killino Firm, we understand the devastation involved when a parent discovers his/her child has suffered an injury, especially if it was due to the negligence, recklessness or intentional harm of another person or entity. We work as a team on each and every child injury case to ensure our clients recover the compensation they need and deserve.
Contact The Killino Firm Today
When you need a lawyer who will exhaustively investigate your case and make sure that every responsible party is held accountable, contact The Killino Firm, where Keeping America Safe is our primary goal.
To speak with one of our attorneys, call us toll free at 877-875-2927, or send an email to a child injury lawyer. We will respond promptly to your inquiry so that you can experience The Killino Firm Difference.