Our Offices
The Killino Firm is a national law firm with offices throughout the country and lawyers licensed in many states throughout the country. We also represent clients throughout the country by special admission in cooperation with other law firms. If you need a lawyer, call The Killino Firm toll free at (877) 875-2927.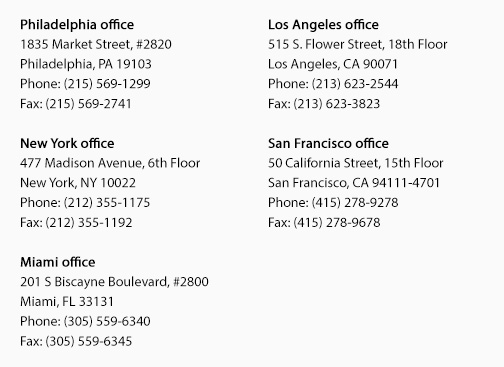 In addition, the attorneys of The Killino Firm will be glad to meet with you at your home or at other convenient locations. Our office hours are 9:00 a.m. to 5:00 p.m. Monday through Friday, with evening and weekend hours by appointment.
When you need a lawyer who will exhaustively investigate your case and make sure that every responsible party is held accountable, contact The Killino Firm, where Keeping America Safe is our primary goal. To speak with one of our attorneys, call us toll free throughout the United States at (877) 875-2927; or contact a personal injury lawyer via email. We will respond promptly to your inquiry so that you can experience The Killino Firm Difference.