Defective Products
At The Killino Firm we know defective products. We have handled national defective products cases; from a national Chinese tire recall and a class action against Mattel to a wrongful death and survival action against Tyco Healthcare.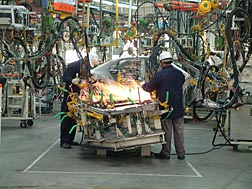 The Killino Firm's highly trained and experienced legal team has a proven track record of success in handling defective products on both the individual and national level. If you or a family member has been injured by a defective product, contact the experienced product liability attorneys at The Killino Firm today.
NHTSA Tire Recall: The Killino Firm gained national recognition for its personal injury and death lawsuit that prompted a NHTSA recall of 450,000 faulty Chinese-made light truck tires.
Class Action Lawsuit against Mattel Toys: The law firm of The Killino Firm filed a class action lawsuit against Mattel Toys king to compel them to pay for medical testing of children who played with or were exposed to recalled toys.
Wrongful Death and Survival Action Against Tyco Heathcare: The Killino Firm filed a wrongful death and survival action against Tyco Heathcare on behalf of the family of a man who died after allegedly suffering adverse reactions to tainted Heparin.
At The Killino Firm, we believe companies have a responsibility to American consumers and should be held accountable for their actions. Our attorneys are experts at digging deep and fighting companies and individuals that want to save a few pennies but in the process put Americans' safety at risk.
Victims of dangerous and defective products hire The Killino Firm, because they know that we employ a team of attorneys, paralegals and investigators knowledgeable about defective products who will investigate the product and determine what went wrong and why.
The Killino Firm's Product Recall Lawyers in the Media
From CNN to ABC and around the world, we make the news because we are willing to fight the large corporations and international businesses that have exposed our families to defective products. We are dedicated to assuring that our clients, and every American, can feel safe and secure when buying tires, playing with toys and using the many items we take for granted in our daily lives.
If that means filing a lawsuit so that a client who was injured by defective tires is compensated for his pain and suffering and other losses, we will do it. If that means filing a class action so the parents can feel comfortable knowing that their children do not have lead poisoning, we will do it. If that means filing a wrongful death lawsuit so the family of a man who died from defective Heparin is compensated for their losses, we will do it.
View The Killino Firm's defective product cases in the news here.
Types of Defective Products
There are many types of defective products, including:
Automobiles
Drugs
Medical equipment
Appliances
Tools
Machinery
Sports equipment
Toys
Children's gear
Tires
In addition, products that are designed or manufactured incorrectly, that do not provide proper warning labels, that were not recalled in a timely fashion and many others qualify as defective products. If any of these products injures a consumer or employee, then that victim is entitled to compensation and damages, including pain and suffering, payment of medical bills, loss of income, loss of earning capacity.
The Killino Firm: Experience, Knowledge, Results
At The Killino Firm, we treat each and every case with the same intensity and commitment as we have the Chinese tire recall, the Mattel class action and the Heparin lawsuit. That's The Killino Firm Difference. When something goes wrong, the lawyers and staff of The Killino Firm are prepared to investigate every aspect of the accident in order to discover not only what happened, but why.
Using cutting edge technology, we evaluate every option until we determine who was responsible, and then we proceed aggressively so that our clients receive all of the compensation they are entitled to.
Although The Killino Firm has recovered millions in compensation for our clients, our true accomplishment is promoting a safer America for our families.
Contact The Killino Firm Today
When you need a lawyer who will exhaustively investigate your defective product case and make sure that every responsible party is held accountable, contact The Killino Firm, where Keeping America Safe is our primary goal.
To speak with one of our attorneys, call us toll free at 877-875-2927, or send an email to a defective product lawyer today. We will respond promptly to your inquiry so that you can experience The Killino Firm Difference.