Bus Accidents
According to the National Highway Traffic Safety Administration (NHTSA) there are approximately 300 fatal bus accidents each year, and a significantly higher number of bus accidents that result in serious personal injuries and property damage.
Common Causes of Bus Accidents
There are several factors that can lead to motor vehicle accidents involving buses; however, some of the most common causes include:
Driving while under the influence of drugs or alcohol
Reckless driving, speeding by either the bus driver or another driver
Harsh weather conditions including rain, snow or fog
Defective equipment such as defective tires or brakes
Improper maintenance of the bus
Dangerous, narrow roadways or sharp turns
Recovering Compensation for Your Losses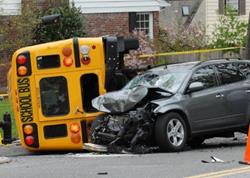 Whatever the cause may be, bus accidents can be devastating, tragic events for all parties involved — leaving individuals with life-changing injuries and lost loved ones. If you or someone you love has been injured or killed in a bus-related accident, it is important to hire an experienced personal injury attorney who will help you recover compensation for your physical, psychological and financial losses.
You may be eligible to recover compensation for damages including:
Medical bills
Treatment programs
Lost wages
Funeral costs
Present and future loss of financial support
Emotional pain and suffering
Experienced, Dedicated Personal Injury Attorneys
The families of individuals injured and killed in bus accidents turn to The Killino Firm for compassionate, yet aggressive representation in their personal injury cases. The highly skilled and experienced personal injury attorneys of The Killino Firm have been successfully representing the injured and their families for years and serve as a team of advocates for their clients.
We work exhaustedly to uncover the cause of the accident and fight tirelessly to ensure all liable parties are held accountable. We recognize that bus accidents can change our client's lives forever, so we strive to provide committed, compassionate representation while zealously fighting for our clients in every stage of their cases.
Contact The Killino Firm Today
When you need a lawyer who will exhaustively investigate a bus accident case and make sure that every responsible party is held accountable, contact The Killino Firm, where Keeping America Safe is our primary goal.
To speak with one of our personal injury attorneys, please fill out the form on this page, call toll free at 877-875-2927, or send an email to a bus accident lawyer today. We will respond promptly to your inquiry so that you can experience The Killino Firm Difference.