Defective Tires & Tire Blowout Accidents
Most defective tires are the result of (1) tread separation, (2) the use of a multi-piece wheel or rim, or (3) incorrect tire inflation. Under these conditions defective tires can cause a car to rollover or a tire to blow out, resulting in serious, or fatal, injuries. According to the U.S. Department of Transportation's National Highway Traffic Safety Administration (NHTSA), faulty tires cause 33,000 injuries and 660 fatalities every year. Preservation of evidence and a prompt, thorough investigation are critical factors in determining how an accident happened, and why.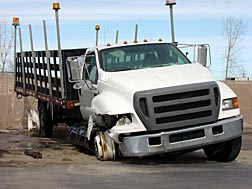 At The Killino Firm, our team of attorneys, paralegals, and investigators understands the complexities of defective tire cases. In fact, the recall of roughly 450,000 light truck tires manufactured in China is an ideal example of how The Killino Firm goes the extra mile for our clients. While investigating a truck accident, our attorneys and investigators realized that there had to be another cause for the accident – and discovered that the Chinese manufacturer had left a critical component out of the truck's tires. As a result of the lawsuit we filed, the American importer of these tires has recalled the tires, which were manufactured under the names of Westlake, Telluride, Compass and YKS.
Tread Separation
Tires are manufactured from different layers (also called belts or plies) of material such as steel, fiberglass, nylon or other materials that are exposed to high temperatures and pressure in order for them to bond together. When properly designed and manufactured, belts add strength and stability to a tire. If the adhesive used to attach the tread to the belt and to the rest of the tire fails because it is too weak or because of other manufacturing errors, the tread may not adhere properly to the belt, reducing the integrity of the tire. When this happens, cracks may form in the tire; tread separation occurs when the layers, or plies, of a tire separate from one another.
Multi-Piece Wheels or Rims
The wheels or rims on private passenger vehicles are generally manufactured from one piece of metal. Large trucks, however, often use multi-piece rims that fit together and hold the tires, which can deflate explosively. As a result, multi-piece rims have caused many serious injuries or death to persons installing and repairing them. The Occupational Safety and Health Administration (OSHA) has imposed strict rules explaining how to handle multi-piece wheels, but even with these regulations, serious or fatal accidents can still happen.
Incorrect Tire Inflation
Two of the most common causes of tire failure are underinflation or overinflation of tires. Underinflated tires cause the sidewalls to run very hot, especially on highways and during hot weather. The resulting heat buildup can cause tread separation or a sudden blowout. Overinflating tires, which generally happens when a person adds air to tire until it "looks full" can be equally dangerous by making tires more vulnerable to damage from potholes and curbs.
At The Killino Firm, we treat every client and every case with the same intensity as we have the Chinese tire recall and Mattel toy class action. The Killino Firm has a proven record of success, excellence and integrity both inside and outside the courtroom. We represent clients in a wide range of cases, including airplane crashes, automobile, truck and motorcycle crashes, automobile defects, insurance company bad faith, defective toys, tire defects, defective products, medical malpractice, and toxic chemicals.
We are aggressive litigators, as well as compassionate attorneys, and are known for employing innovative strategies and courtroom techniques. We regularly consult with leading experts so that we can provide our clients with the most effective and efficient representation. Each attorney and paralegal on the The Killino Firm team understands that our clients often have complex needs, and we devote our energy to addressing each client's unique needs and concerns.
When you need a lawyer who will exhaustively investigate your case and make sure that every responsible party is held accountable, contact The Killino Firm, where Keeping America Safe is our primary goal. To speak with one of our attorneys, please fill out the form on this page, call us toll free at 877-875-2927, or send our Injury Attorneys an email. We will respond promptly to your inquiry so that you can experience The Killino Firm Difference.
Feel free to visit the National Highway Traffic Safety Administration (NHTSA) website and learn about the Chinese recall.