Air Bags
During a crash, airbags are meant to save lives and prevent injuries. Sometimes, however, a vehicle's airbags are defective, thereby causing serious injuries. If an airbag fails to deploy, it can cause serious harm, such as burn injuries, dismemberment or death. If an airbag deploys needlessly, such as in a low-impact collision, the airbag can cause an individual to lose control of the car, crash, and suffer unnecessary injuries. Between 1990 and January 1, 2007, airbag accidents took the lives of 278 people and injured countless other innocent victims.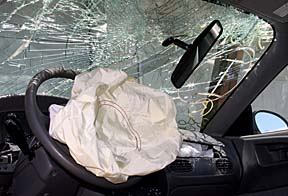 Some automobile manufacturers have knowingly installed defective airbags in order to save money. Other defective airbags are simply the result of poor crash testing or faulty design. Regardless, defective airbags can cause extremely severe injuries, including dismemberment or death. At The Killino Firm we recognize that these injuries often change our clients' lives forever. As a result, we provide personalized and caring representation, while zealously fighting for our clients at every stage of their cases, including trial, if necessary.
Victims of Automobile Accidents
Victims of automobile accidents, who have suffered injuries as a result of defective airbags, consult with The Killino Firm because they know that we investigate every their cases thoroughly and that they will receive all of the compensation they are entitled to. We employ a team of attorneys, paralegals and investigators knowledgeable about defective airbags. We also understand that our clients have suffered serious, at times catastrophic injuries, and need a law office that will deal with the insurance companies and guide the clients and their families through the maze of medical care and treatment that they face.
At The Killino Firm, we go the extra mile in every case. We treat every client and every case with the same intensity as we have the Chinese tire recall and Mattel toy class action. When something goes wrong, the lawyers and staff of The Killino Firm are prepared to investigate every aspect of the accident in order to discover not only what happened, but why. Using cutting edge technology, we evaluate every option until we determine who was responsible, and we then proceed aggressively so that our clients receive all of the compensation they are entitled to. That's the The Killino Firm Difference.
When you need a lawyer who will exhaustively investigate a defective airbags case and make sure that every responsible party is held accountable, contact The Killino Firm, where Keeping America Safe is our primary goal. To speak with one of our attorneys, please fill out the form on this page, call us toll free at 877-875-2927, or send our Injury Lawyers an email. We will respond promptly to your inquiry so that you can experience The Killino Firm Difference.