Truck Accident Lawyer
At the Killino Firm, we know personal injuries caused by truck accidents. Given the heavy impact of large trucks, people involved in these types of accidents are at an increased risk of suffering severe, catastrophic injuries such as crushed bones, spinal cord injuries, traumatic brain injuries, and death. If you or someone you love has been injured or killed in a truck accident, contact the Killino Firm to consult an experienced personal injury lawyer.
The Killino Firm was built with a commitment to helping injured persons and their families. We provide each client with the personal attention and service we would expect for our own families. No matter what the circumstances of your case, we will treat it with the same intensity as the rest. We serve as tireless advocates for the families we represent and will fight aggressively and wholeheartedly on your behalf.
Please view our truck accident lawyers in the news.
Types of Truck Accidents
At the Killino Firm our attorneys are equipped with the knowledge and the experience to successfully handle a variety of truck crashes, including those involving:
Reckless truck drivers
Truck rollovers
Truck brakes malfunctions
Jackknifing accidents
Harsh weather conditions
Poor road conditions
Debris in the highway
Some of the main types of truck accidents include those involving:
Big rigs
Semi trucks
Fire trucks
Tractor tailors
Truck Accident Reports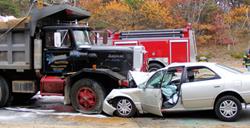 Reports indicate that roughly 3 percent of all traffic accidents involve big rigs or semi trucks. These accidents result in approximately 5,000 deaths and more than 100,000 serious injuries every year in the U.S.
According to The Large Truck Crash Causation Study (LTCCS), there are three main causes of truck accidents:
Truck drivers inability to stay in their lanes (either running their trucks off the road or into another driver's lane)
Loss of control (due to speeding, cargo shift, truck malfunctions or bad road conditions)
Rear-end collisions with another vehicle
Severe Truck Crash Injuries
Injuries from semi truck and big rig accidents can be severe and often change a person's life forever. Serious injuries include:
Head and neck injuries
Crushed bones
Lost limbs
Paralysis
Death
When to Contact the Killino Firm
It is important to contact an attorney immediately following a serious truck accident. Every day that you wait, evidence may be lost, witnesses' memories fade, and the case becomes more difficult to prove. To ensure the best outcome in your case, contact our experienced personal injury law firm today. We will answer all of your questions and fight aggressively on your behalf. Contact our lawyers today and experience the Killino Firm Difference.