While any accident involving a tractor trailer, big rig or other large commercial truck is dangerous, a crash is far more likely to cause severe injury or wrongful death when a rig is hauling hazardous materials. Not only does the release of such materials pose a significant risk to other drivers and their passengers, but a toxic spill or leak has the potential to imperil just about anyone else close to the crash, including residents of surrounding communities.
The Killino Firm's truck accident lawyers believe the victims of preventable HAZMAT accidents are entitled to compensation for their pain and suffering. If you or someone you love was injured or tragically killed in a truck or 18-wheeler accident that involved hazardous materials, call our law firm toll free at 877-875-2927 to speak with an attorney and learn more about your legal rights.
Why are HAZMAT Truck Accidents So Dangerous?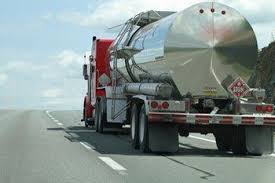 According to the U.S. Federal Motor Carrier Safety Administration (FMCSA), the rate of HAZMAT truck crashes, injuries, fatalities, and spills is low compared to the overall amount of hazardous materials transported along U.S. highways. But HAZMAT truck accidents are more likely to cause severe injury and wrongful death,  significantly impact the economy, and inflict severe damage on surrounding communities.
If a truck is hauling hazardous liquids, the impact of a crash might cause the material to spill and create slippery conditions along the roadway, especially if the substance is oil-based. The poor road conditions created by a HAZMAT spill could cause other drivers to lose control and trigger a multi-vehicle accident.
As is the case with any truck or 18-wheeler accident, victims of HAZMAT crashes frequently suffer severe brain and spinal cord injuries, bone fractures, and internal injuries. However, the presence of hazardous materials only increases the potential for these and other serious injuries, including:
Thermal or Chemical burns (from chemicals or fire/flames/explosions)
Poisoning from toxic gases
Eye damage and blindness
Amputations or loss of hearing from explosions
Neurological damage
Respiratory distress problems
Slip and fall injuries due to oily surfaces
Exposure to cancer-causing substances resulting in long-term illness
3 Billion Tons of Hazardous Materials Transported by Trucks Every Year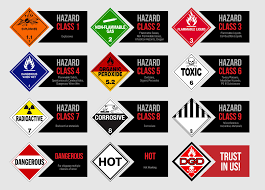 According to the U.S. Department of Transportation, large commercial trucks transport nearly three billion tons of hazardous materials each year. The FMCSA has divided hazardous materials into nine specific categories:
Class 1 – Explosives: Materials that can trigger an explosion or act as projectiles, blasting agents, or detonating devices.
Class 2 – Gases: Flammable and non-flammable gases, including toxic gases.
Class 3 – Flammable Liquids: Gasoline, diesel or jet fuel, motor oil, kerosene, ethanol, etc.
Class 4 – Flammable Solids and Spontaneously Combustible Materials: Examples include Sulphur, activated charcoal, aluminum powder, and magnesium.
Class 5 – Oxidizers and Organic Peroxides: These substances can accelerate the burning of other materials.
Class 6 – Toxic Materials and Infectious Substances: Rat poison and other toxins that are neither gas nor liquid. Infectious substances include any pathogen that could cause disability or death if a human or animal is exposed.
Class 7 – Radioactive Materials: A truck accident that results in the release of radioactive materials can affect the environment and the health of those living nearby for years.
Class 8 – Corrosive Materials: Strong acids or base substances that can quickly burn or corrode.
Class 9 – Miscellaneous: Lithium batteries, dry ice, and any other potentially dangerous materials not included in another category.
Most Frequently Cited HAZMAT Violations
Because HAZMAT accidents pose such a severe threat to public health and safety, the FMCSA has established regulations governing the transport of hazardous materials by commercials carriers. For example, trucks hauling hazardous materials must carry appropriate warning placards, and commercial carriers must inform certain authorities when their vehicles are carrying dangerous cargo.
HAZMAT truckers must have a hazardous material endorsement, which proves they are trained in the proper procedure for transporting dangerous materials. HAZMAT trucks are also prohibited from operating at certain times of the day and are restricted from using certain roads.
Unfortunately, trucking companies and their drivers don't always abide by these regulations. In fact, during roadside truck inspections in 2019, the FMCSA issued nearly 47,000 HAZMAT-related citations. The most frequently cited violations included:
Package not secured in a vehicle.
No copy of the USDOT HAZMAT registration number.
No shipping papers or a lack of shipping paper accessibility.
Placard damaged, deteriorated, or obscured.
Vehicle not placarded as required.
No placards/markings when required.
Failing to provide carrier required placards.
Maintenance/accessibility of emergency response information.
Emergency response information not available.
Release of hazardous materials from package.
Failing to mark manual remote shutoff device.
Accepting/transporting hazardous material not prepared properly.
Package/containment not labeled as required.
Emergency response information missing.
Transporting hazardous material in a specification tank with expired inspections/tests.
Manholes and valves not closed or leak-free.
What Should I Do if a Semi Tractor Trailer or an 18-Wheeler Hit My Car or Injured My Loved One?
If you're physically able, try to document as much of the scene as possible through photos and videos. You should also collect witness information and exchanging insurance information with the truck driver.
You'll likely be asked to provide a statement to the police for a written accident report. While you should cooperate with law enforcement, stick to the facts and don't speculate about fault. But do not talk to the other insurance company or the trucking company's claims adjuster.
Photograph and inspect the truck and your vehicle before repairs are made.  HAZMAT injuries aren't always apparent immediately after a crash. In fact, ailments associated with toxic or carcinogenic exposures might not present themselves for several years.
For that reason, it's essential that the victims of HAZMAT truck and 18-wheeler accidents seek medical attention immediately after the crash and take other steps to protect their health and their rights to compensation from the truck driver, trucking company, and other responsible parties. It's important to get checked out by EMTs at the scene or the nearest emergency room, even if you don't think you were hurt.  Getting timely medical care not only increases the odds for a full recovery but will also help you prove damages by providing documentation of a link between any injuries and the accident.
Contact an Experienced Truck Accident Lawyer
Our Truck Accident Lawyers have extensive experience handling cases involving semitrucks, 18-wheelers, delivery trucks, fleet trucks and other large commercial vehicles . Since these accidents may involve multiple cars and more severe injuries, you are less likely to have all of your damages covered by insurance.  Our law firm has the resources and expertise to take on the trucking company attorneys and file a lawsuit on your behalf. If you or a loved one were injured in a HAZMAT truck accident, please  contact us for a free consultation at 1-877-875- 2927.