Now that winter is well underway, many people in the chillier parts of the country are relying on snowblowers to keep their sidewalks, walkways, and driveways clean and safe.
Icy and snow-covered pavement is most definitely hazardous, and snow shoveling is physically taxing and even dangerous for certain individuals. But snowblowers also pose unique risks, especially those that lack adequate instructions for use or suffer from design and manufacturing defects. In fact, thousands of Americans are treated in emergency rooms every winter for cuts, lacerations, amputations, and other injuries they suffered due to snowblower accidents and malfunctions.
The Killino Firm's defective product lawyers believe the victims of preventable accidents and injuries are entitled to compensation for their pain and suffering. If you or a loved one were hurt by a snowblower, please call our law firm toll free at 877-875-2927 to speak with an attorney and learn more about your legal rights.
All About Snow Blowers
Snowblowers can be purchased in five standard models. Your choice will depend on several factors, including the typical snowfall in your area and the slope of the pavement you'll be clearing:
Single-Stage Snowblowers: These gas-powered machines have the simplest design and are usually the most affordable. A corkscrew auger spins in the front, breaking up snow and launching it through an attached discharge chute. Single-stage snowblowers are light, easy to maneuver in tight spaces, and usually work best in moderate to light snow.
Two-Stage Snowblowers: These products use a corkscrew-shaped slow-turning auger to suck up the snow, as well as a fan (impeller) to push snow from the back of the auger and out through the chute. This mechanism allows for more snow to pass through the machine and launch further through the air. Two-stage blowers are bigger, heavier, and can handle up to 20 feet of snow.
Three-Stage Snowblowers: These models are similar to a two-stage blower that features an auger and impeller fan. But the middle of the machine also has an accelerator equipped with a blade to chop up snow and push it through the impeller. A three-stage blower can handle over 20 inches of wet, heavy snow about 20% faster than its two-stage counterpart.
Corded Electric Snowblowers: These light-weight snowblowers are great for clearing moderate snow of less than 8 inches from sidewalks, single-car driveways, and other level, paved surfaces.
Cordless Electric Snowblowers: These snowblowers eliminate the need to maneuver around a cord. Most are single-stage, but some newer models are two-stage.
According to the American National Standard, all snowblowers should be equipped with an operator presence control (an interlock or dead man control switch) that automatically stops the impeller or shuts down the engine when the operator leaves the operator position.
It's also possible to find snowblowers with high-end features like push-button power steering, heated handgrips that warm your fingers, airless tires that never go flat, and push-button chute rotation.
Snow Blower Accidents and Injuries
According to one recent study, an estimated 91,451 people sought emergency room treatment for snow blower-related injuries from 2003 through 2018.  That amounts to an average of 6,096 annually!
The five most common snowblower injuries included:
Broken bones (25.9%)
Lacerations (20.2%)
Strains/Sprains (15.0%)
Amputated fingers or hands (11.2%)
Contusions/abrasion (10.2%)
The most frequent causes of snowblower injuries were:
Placing a hand into the snowblower shoot (44.5%)
Slips/Falls (13.3%)
Medical Events (13.3%)
Projectiles thrown from a Snowblower (1.3%)
Being run over by a snowblower (1%)
Other mechanisms (31.5%)
More than 99% of the amputations resulting from snowblower accidents involved the fingers. Cardiac events accounted for virtually all of the deaths.
Snowblower Recalls
Snowblower accidents are far more likely to occur when a machine is defectively designed or manufactured. In fact, since 2006, manufacturers have conducted a half dozen snow blower recalls because of issues that could cause harm to the user or those nearby.
Toro Snowthrower Recall
Most recently, Toro recalled around 6,700 Power Max Snowthrowers because the auger can fail to disengage when the control lever is released, posing an amputation hazard. The manufacturer has received five reports of incidents related to this defect, but no injuries have yet to be reported.
The recall involves Model Year 2021 Toro Power Max 826 OHAE Snowthrowers with Model Number 37802.  The model and serial number are located on the back of the snowthrower. Affected serial numbers are listed on Toro's website.
These snowthrowers were sold at Home Depot, Ace Hardware, and Toro Authorized Dealers nationwide and online at www.homedepot.com, www.acehardware.com, and www.toro.com from November 2020 through January 2021 for about $1,200.
Consumers should immediately stop using their recalled Toro Power Max Snowthrower and contact a Toro authorized dealer for a free repair.
Ariens and Sno-Tek Snow Throwers and Power Brushes
In April 2014, the U.S. Consumer Products Safety Commission (CPSC) announced a recall involving around 5,700 Ariens and Sno-Tek Snow Throwers and Power Brushes because a drive pull could crack while in use and cause the auger/impeller or brush to continue rotating after the clutch lever is disengaged. This poses amputation and laceration hazards to consumers.
The recalled snow throwers and power brushes were sold at Home Depot stores and other authorized Ariens dealers nationwide from January 2014 to February 2014 for between $500 and $2,200,
Consumers were advised to stop using the recalled snow throwers and brushes immediately and contact the Ariens Company for a free repair.
Liquid Combustion Technologies Sno-Tek Snowblowers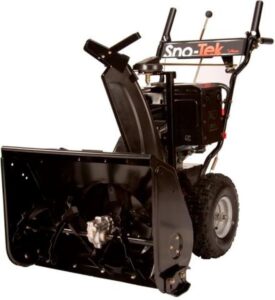 In February 2011, Liquid Combustion Technologies (LCT) recalled around 1,800 Sno-Tek Snowblowers that posed a laceration hazard because a safety shield customarily installed above the side-mounted electric starter was missing.
The recalled Sno-Tek Snowblowers were sold at Home Depot and Ariens authorized dealers nationwide and on HD.com in Canada from August 2010 through September 2010 for between about $700 and $800.
Consumers were advised to stop using the affected snowblowers and contact LCT for a free repair kit and installation instructions. They could also be returned to an authorized LCT service center location for a free repair.
Toro Power Clear Snowblower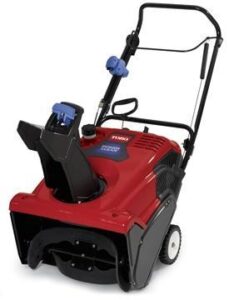 In April 2011, the CPSC announced a recall for 23,000 Toro Power Clear Snowblowers sold in the United States and Canada because the carburetor could develop fuel leaks and ignite when exposed to an ignition source, posing a fire or burn hazard. The recall also included around 6,200 20" Recycler Mowers with the same defect.
The recalled snowblowers and mowers were sold at Toro Dealers in the United States and Canada from September 2009-March 2011. Toro received over 500 reports of carburetor leaks involving these products but no reports of fires or injuries.
MTD Snow Throwers
In October 2006, MTD recalled around 100,000 Troy Bilt, Yard, and Craftsman brand Two-Stage Compact Snow Throwers with plastic wheel rims that could burst, posing a risk of lacerations and fractures. MTD had received reports of 16 injuries, including fractured fingers, a broken toe, and facial lacerations.
The Troy-Bilt and Yard Machines snow throwers were sold at independent dealers, home improvement, and hardware stores. The Craftsman brand snow throwers were sold at Sears and Kmart stores. All were sold from July 2004 through March 2006 for between $500 and $800.
MTD provided repair kits free of charge.
Toro Snow Thrower Recall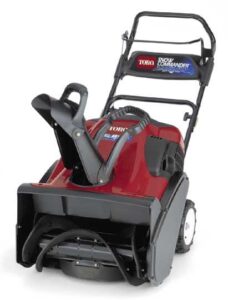 In August 2006, Toro recalled around 84,000 Toro Snow Commander and CCR Single Stage Snow Throwers, significantly expanding a recall initially announced in 2003. According to the first recall notice, the throwers' plastic fuel tank could crack and leak gasoline, posing a fire and injury risk.
The recalled snow throwers were sold nationwide from October 2000 through March 2003 for between $850 and $950. Toro received more than 800 reports of fuel tanks leaking. No fires or injuries were reported.
Consumers were advised to stop using the snow throwers and contact Toro to obtain a free replacement fuel tank.
Avoid Snow Blower Accidents and Injuries
No matter what kind of snowblower you're using, it's important to follow these safety tips to prevent injury to yourself and others:
Before using a new snowblower, read the manual thoroughly and follow all directions for safe operation.
Always turn off the engine on a gas machine or unplug the motor on an electric model before clearing a clog at the auger or discharge chute. Then use the clearing tool or stick, never hands or feet, to remove the clog.
Always assume that the augur is spinning whenever the motor is running.
To prevent carbon monoxide poisoning, always run gasoline-powered snowblowers outside, rather than in the garage or shed.
Avoid wearing loose pants, jackets, or scarves, as they may become tangled in a snowblower's moving parts.
Wear sturdy boots with good traction.
Be careful when operating on slopes or graded areas.
Wear earplugs or other hearing protection.
Wear eye protection to safeguard against flying or ricocheting objects.
Add fuel to the machine only when the engine is off and cooled, always mix to the approved gas/oil ration, and only use an approved fuel container to hold the gasoline.
When using a corded electric snow blower, only use an outdoor extension cord and an outlet with ground-fault-circuit-interrupting protection. Be sure to keep the cord safely away from the spinning auger while working.
Never direct the discharge chute toward people or areas where damage can occur.
Children enjoy playing in the snow but keep kids inside until after you're done using the snowblower.
Although snowblowers are safer and faster than shoveling, it's still essential to pace yourself and take occasional rest breaks.
If you're considering purchasing a used snowblower from eBay, Craigslist, or a second-hand store, check the CPSC website to ensure the model you're buying hasn't been recalled. Once you've purchased any snowblower, sign up for CPSC recall notifications so you'll be alerted if it's recalled in the future.
Contact Us
If you or a loved one were hurt because of a defective snowblower, the Killino Firm's product liability lawyers have the resources and experience to file a lawsuit on your behalf to ensure you and your family receive compensation to deserve.  To speak with an attorney, please do not hesitate to contact the Killino Law Firm at 1-877-875-2927.