Every year, thousands of amateur mechanics and automobile enthusiasts suffer severe and potentially fatal injuries when a car jack or jack stand collapses as they're working beneath a vehicle.
Sometimes, car jack and jack stand injuries result from improper use. But in many cases, the devices were defective or sold with inadequate instructions for use.
The Killino Firm's defective product lawyers believe the victims of preventable jack stand and car jack accidents are entitled to compensation for their pain and suffering. If you or someone you love was injured or tragically killed because of a defective car jack or collapsing jack stand, call our law firm toll free at 877-875-2927 to speak with an attorney and learn more about your legal rights.
Car Jack and Jack Stand Failures Injure Over 4,800 Annually
Car jacks lift automobiles off the ground for servicing and repairs. Jack stands don't lift vehicles, but provide safe, fixed support after they've been raised.
The average passenger vehicle weighs around 4,094 lbs. When a defective jack stand or car jack fails, the individual working underneath the automobile is likely to sustain severe and potentially deadly injuries, including:
Crushing injuries
Lacerations
Amputation of fingers or limbs
Spinal cord injury
Paralysis
Permanent scarring or disfigurement
Permanent disability
Wrongful death
The National Highway Traffic Safety Administration estimates that more than 4,800 people in the United States receive emergency medical treatment every year in connection with car jack and jack stand failures. While the vast majority of victims are treated and released, around 4% require further hospitalization.
About 40% of victims are injured while using a car jack or jack stand to lift a vehicle for repair, and 16% are hurt while changing a tire. Nearly three-quarters of injuries occur when the car or jack slips or falls out of position, and 18% result from the loss of pressure in the jack.
Harbor Freight Jack Stand Recalls
In May 2020, Harbor Freight recalled more than 1.7 million Pittsburgh Automotive 3-Ton and 6-Ton Heavy Duty Steel Jack Stands after they were implicated in 11 non-life-threatening injuries.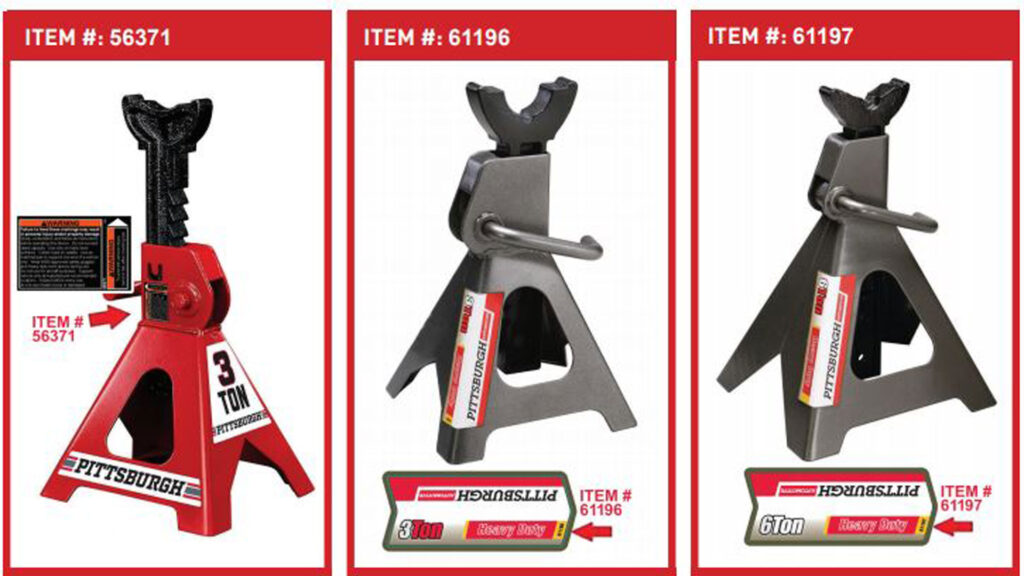 The products involved are pawl-type jack stands, with a pawl that engages with teeth on the stand's lifting arm. According to Harbor Freight, a manufacturing defect that resulted from old tooling used at a specific Chinese factory could cause the pawl to disengage, allowing the jack to drop. Unfortunately, this defect is likely to go unnoticed by a user until the jack stand actually fails.
While Harbor Freight insisted the defect affected just a small percentage of jack stands manufactured at one particular factory, the company recalled the entire product run from that facility as a precaution.
Less than two months later, Harbor Freight recalled additional Pittsburgh 3-Ton Jack Stands that some customers had purchased as recall replacements.  This time, the problem was a weld defect that could cause the stands to split and collapse.
As a precaution, Harbor Freight also offered refunds for other Pittsburgh 3-Ton steel jack stands Pittsburgh 6-Ton steel jack stands, and Pittsburgh 12-Ton steel jack stands.
Car Jack and Jack Stand Safety Tips
Working under an automobile is inherently dangerous. To prevent dangerous accidents and severe injuries, take the following precautions whenever you're changing the oil or making other repairs that require you to work beneath an automobile:
Check the Weight Rating: Make sure your car jack and jack stands are appropriate for your vehicle by checking the product manuals and labels for their weight rating.
Check the Condition of your Car Jack and Jack Stands: Use high-quality equipment from a reputable company, and always check the condition of your jack and jack stands before use.
Jack Your Vehicle on a Flat, Hard Surface: A concrete garage floor or another flat, hard surface is the best surface for jacking a vehicle. Soft surfaces can cause jack stands to shift.
Use Chocks Before You Lift: These wedge-like devices prevent a vehicle from rolling. Two should be placed behind the wheels at the end that's not being lifted. If chocks aren't available, you can also use a brick or sturdy block of wood.
Locate Lift Points and Jack Stand Points: Check the owner's manual to determine the best way to lift your automobile. Before jacking, make sure the vehicle's lift points will work with your jack and jack stands. Don't attempt to jack your car if any of the lift points appear damaged. Instead, consult your dealer or trusted mechanic.
Ensure Jack Stands are Vertical and Secure: After lifting the vehicle, make sure the jack stands stay vertical and make good contact with the lift points. Also, ensure your car is stable before getting underneath. If something doesn't seem right, consider jacking the vehicle again.
Contact Us
Unfortunately, a defective car jack or jack stand can fail even after taking all possible precautions.
Our car jack and jack stand injury lawyers have the resources and experience to ensure the victims of defectively designed or manufactured tools and equipment receive the compensation they deserve.  If you or a loved one were hurt in a car jack or jack stand accident and you'd like to speak with an attorney, please do not hesitate to contact the Killino Law Firm at 1-877-875- 2927.