Trucking Inspection, Repair, and Maintenance Regulations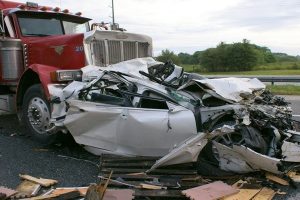 Trucking companies, truck owners, and others responsible for the inspection, repair, and maintenance of motor vehicles used in interstate commerce can be held liable for truck-accident injuries and deaths found to have been caused by the negligent inspection, repair, and/or maintenance of trucks or other commercial motor vehicles (CMV). Sections 396.1 through 396.25 of the Federal Motor Carrier Safety Regulations (FMCSR) contain the federal regulations related to the duties of all motor carriers and their officers, drivers, agents, representatives, and employees who are directly concerned with the inspection or maintenance of CMV. The inspection, repair, and maintenance rules also apply to any intermodal equipment (IME) providers and their officers, agents, representatives, and employees who are directly concerned with the inspection or maintenance of intermodal equipment that is interchanged or offered for interchange to motor carriers. Intermodal equipment is defined in the FMCSR as any trailing equipment used in the intermodal transportation of containers over public highways in interstate commerce, such as chassis and trailers.
Experienced truck accident lawyers are well-versed in these and other regulations applicable to the trucking industry and are skilled in holding trucking companies and others responsible for truck-crash injuries and deaths accountable through legal action. If you or a loved one has been injured in a truck accident of any kind, a trucking accident lawyer can help you achieve justice from the responsible parties.
Duty to Inspect, Maintain, and Repair
Every motor carrier, intermodal equipment provider, and individual subject to the FMCSR's inspection and maintenance regulations is required to systematically inspect, repair, and maintain all motor vehicles and intermodal equipment subject to their control. If these entities or individuals do not personally perform such duties, they must cause the systematic inspection, repair, and maintenance of such vehicles and equipment to be performed by commercial garages, fleet leasing companies, truck stops, or other similar commercial businesses. Such non-personal inspections will be performed by these commercial businesses as agents for the entities and individuals required under the regulations to have these duties performed. Thus, motor carriers, intermodal equipment providers, and their officers, employees, and other agents and representatives may be held responsible for negligently or inadequately performed inspections, repairs, and maintenance by unqualified or otherwise inadequate inspectors and repair and maintenance businesses.
According to the inspection, repair, and maintenance regulations, parts and accessories must be ensured to be in safe and proper operating condition at all times. Such parts include frame and frame assemblies, suspension systems, axles, attaching parts, wheels and rims, steering systems, lamps, reflective devices or material, and any other parts and accessories necessary to the safe operation of a motor vehicle. In addition, all push-out windows, emergency exits, and emergency exit marking lights in buses must be inspected. Motor carriers are also required to ensure that each motor vehicle subject to a carrier's control is properly lubricated and free of oil and gas leaks. Brakes must be inspected and kept in safe and proper working order.
Records of maintenance and repair must be kept by motor carriers or intermodal equipment providers and retained where vehicles or equipment are housed for a period of one year and for 6 months after vehicles or equipment leave carrier or equipment provider control. FMCSR §396.3.
Periodic Inspection Reports
Motor vehicle carriers and intermodal equipment providers who personally inspect vehicles and equipment must make records of the inspections and retain the records where the vehicles are housed or maintained for a period of 14 months from the date of an inspection report. If the motor carrier or intermodal equipment provider did not personally make the vehicle's or equipment's last annual inspection, the carrier or provider must obtain an original or copy of the last annual report from the entity that performed the inspection if ordered to do so by an authorized federal, state, or local official. FMCSR §396.17.
Inspection Frequency Requirements
All commercial motor vehicles and intermodal equipment must be inspected in accordance with the regulations at least once during the 12-month period preceding the use of such vehicles or equipment. In addition, push-out windows, emergency exits, and emergency exit marking lights in buses must be inspected every 90 days. FMCSR §§396.3, 396.17.
Inspections Required by Drivers
Drivers are also required to make certain inspections of the vehicles they are driving. Before driving any commercial motor vehicle, a driver must be satisfied that the vehicle is in safe operating condition. In order to do so, the driver must review the vehicle inspection report made by the vehicle's last driver. If any defects or deficiencies were noted in the last report, the driver must see that any required repairs have been performed and sign the report, certifying that the report was reviewed and the required repairs made. FMCSR §396.13.
Liability for Injuries and Deaths Caused by Negligent Inspection, Repair, or Maintenance
The non-performance or negligent performance of truck and other commercial vehicle inspections, repairs, and/or maintenance is often found to have been a cause of truck-accident victims' injuries and deaths. Improperly maintained brakes, faulty lights and reflectors, steering system malfunctions, and many similar issues resulting from inadequate vehicle maintenance can easily cause an accident and a victim's injury or death.
Violations of inspection, repair, and maintenance regulations are considered negligence on the part of entities or individuals subject to these regulations in personal-injury or wrongful-death actions brought by accident victims or their families. If the violation of one or more of these regulations is found to have been a cause of an accident victim's injuries or death, the motor carrier, intermodal equipment provider, or other responsible entity or individual may be held liable for the damages suffered by the victim or victim's survivors as a result. Our trucking-injury attorneys are thoroughly versed in these and all other regulations relevant to truck-accident cases and have extensive experience with the means for investigating and proving such violations and with utilizing that proof to get the recoveries our clients deserve. If you have been injured or one of your family members has died due to a truck accident of any kind, our nationally respected team of truck accident lawyers is ready to fight for you.