Truck Screening and Hiring Regulations
Trucking companies that employ drivers of commercial motor vehicles (CMV) operating in interstate commerce are required by federal law to comply with certain regulations regarding the screening and hiring of drivers. These regulations are intended to reduce the likelihood of accidents caused by drivers with histories of moving violations, accidents, and suspended licenses.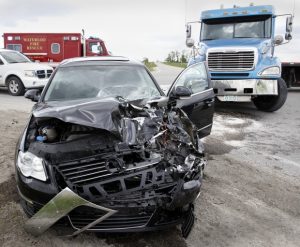 The Federal Motor Carrier Safety Regulations (FMCSR) require employers of CMV drivers to obtain certain information regarding drivers' history and skills before hiring them. Pursuant to the FMCSR, 49 CFR § 383.35, prospective employers of any person applying for CMV driver employment must request (at the time of application) the names and addresses of employers for which the applicant was a CMV operator during the 10 years preceding the application date, the dates the applicant was employed by these employers, and the reason or reasons the applicant left any such past employment.
Though prospective drivers are required to submit the above-referenced information at the time of application, employers may also obtain information regarding drivers' prior history through the Federal Motor Carrier Safety Administration's (FMCSA) Pre-Employment Screening Program (PSP). The PSP system (a voluntary program operated through the U.S. Department of Transportation and designed to assist commercial motor carriers in making more informed driver hiring decisions) provides carriers with electronic (on-line) access to commercial drivers' crash records for the previous 5 years and inspection records for the previous 3 years through the FMCSA Motor Carrier Management Information System (MCMIS). Carriers can obtain drivers' complete histories through PSP, including Moving Violation Reports (MVR), records of safety violations, and previous employment.
Employers are required to hire only drivers who are qualified under the FMCSR. At a minimum, an employer must only hire an applicant who, among other things,
is 18 years of age or older and has provided proof of age
has taken and passed a general knowledge test that meets federal standards applicable to the CMV group the driver operates or expects to operate, including knowledge of the areas specified in 49 CFR § 383.111
has passed a driving or skills test that meets federal standards in a motor vehicle that is representative of the type of motor vehicle the applicant operates or expects to operate, or has provided evidence that the applicant has successfully passed a driving test administered by an authorized third party, including driving skills specified in 49 CFR § 383.113
has certified that he or she is not subject to any disqualification and does not have a driver's license from more than one state or jurisdiction
has provided the names of all states in which the applicant has been licensed in any of the previous 10 years
49 CFR § 383.71, 383.135.
Under certain circumstances, employers are also required to institute pre-employment controlled substance use testing before hiring drivers for safety-sensitive positions. 49 CFR § 382.301. Employers may also, but are not required to, conduct pre-employment alcohol testing under this regulation. 49 CFR § 382.301(2)(d).
Employer Liability for Negligent Screening and Hiring
Truck accident attorneys experienced with cases arising out of crashes caused by truck driver negligence or incompetence have the knowledge and expertise required to hold trucking companies responsible for injuries and deaths caused by company negligence in the screening and hiring of truck drivers. Trucking companies have a duty to protect the safety of those who share our roads with CMV drivers by determining the competence, skills, and knowledge of drivers they allow to operate commercial motor vehicles before they hire them. Thus, a company's failure to meet FMCSR or other standards regarding driver screening and hiring or any other incidence of negligence in performing these duties can result in a company's liability for an accident victim's injury or death determined to have resulted from the company's negligent screening and hiring of a truck driver.
Liability is often imposed on employers in such cases under the doctrine of negligent entrustment, which holds an employer responsible for negligently entrusting the operation of a CMV to a driver the employer knew or should have known was not qualified or competent to operate the vehicle. Employers can also be found indirectly liable for injuries and deaths caused by the negligence of driver employees, even if when the employers themselves were not directly negligent in the screening or hiring of their employees.
The screening and hiring regulations are an important and complex part of truck-accident law. The truck accident lawyers at The The Killino Firm fully understand these regulations and the investigation and proof needed to establish trucking companies' negligence and liability through evidence of their violation. The hiring of drivers with records of moving violations, revoked licenses, and past accidents is all too common in the industry. Our lawyers possess the skill, insight, and cunning to uncover the real stories of negligent drivers' pasts and those of the negligent trucking companies that hire them without taking the time or care to properly screen them. If you have been injured in a truck accident due to the negligent screening and hiring of an incompetent and negligent truck driver, our nationally respected team of trucking-injury lawyers can help you obtain every bit of the compensation you deserve.