Trucking Lines
Truck lines as all truck companies across the nation, have a responsibility to American consumers — on time delivery. These companies have a commitment to ensuring the safe delivery of the products within the trucks.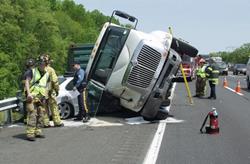 In addition to product safety and timely deliveries, truck lines also have a responsibility to protecting the safety of others around them. Because delivery trucks are so massive, they can cause catastrophic personal injuries and serious property damage if they are operated in an unsafe manner. Truck crash injuries can include:
Bone crushing injuries
Lost limbs
Paralysis
Traumatic brain injuries
Injuries to the head and neck
Serious back injuries
So often, truck collisions are caused by driver negligence and recklessness, such as:
Driver fatigue/over exhaustion
Drunk driving/operating the truck while intoxicated
Eating/not paying attention to the road
Talking on the phone/text messaging while driving
Driving at excessive speeds
Taking turns too fast causing the truck to rollover
In addition to driver negligence, other leading factors of truck accidents may include:
Harsh weather conditions such as snow, fog or heavy rain
Poor road conditions such as potholes or unexpected obstructions
Trucking part defects such as faulty break pads
No matter what the cause of the truck crash, if you've suffered a severe injury, you should contact the Killino Firm to find out if you qualify to seek compensation for your losses. Our experienced injury and death attorneys will dig deep beneath the surface to find out exactly what happened and why. Once we determine fault, we will fight aggressively to ensure the truck line, truck driver and any other responsible parties are held accountable.
Proven Results
At the Killino Firm, our attorneys are well trained and experienced in handling even the most complex trucking crashes. We are dedicated to exhausting every tactic possible to ensure that you and your family recover the maximum amount of compensation possible, For an aggressive attorney who cares about Americium safety, contact the Killino Firm today.