RV Accident Lawyer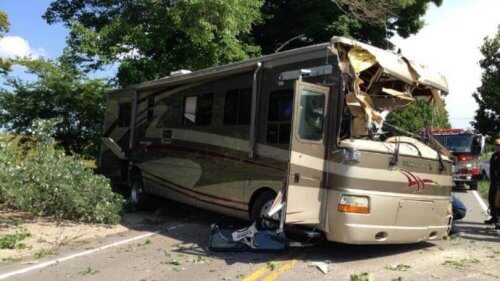 Roughly 40 million people go RVing in the United States every year, and more than 9 million families currently own motorhomes, pop-up campers, camper vans, toy haulers, fifth-wheelers, and caravans. Nearly a half-million are using an RV as their primary residence.
A vacation in a Winnebago, Airstream, or other recreational vehicle is a fun and affordable way to explore the country. But according to the Federal Motor Carrier Safety Administration, 75,000 people are hospitalized annually due to an RV accident. While statistics on crash deaths are difficult to come by, data from the Federal Accident Reporting System indicates that RV accidents killed 212 people – or an average of 26 per year – between 2000 and 2007.
Because of their large size, lack of crash-test standards, and the presence of many objects that can become dangerous projectiles in the event of a collision, an RV crash is more likely to cause severe injury and wrongful death than a typical car wreck. The Killino Firm's highly trained and experienced RV Accident Lawyers have a proven record of success helping the victims of negligent drivers and defective vehicles obtain the compensation they deserve.
If you or someone you love has been injured in an RV accident, and you'd like to speak with an attorney about your case, please contact the Killino Law Firm today at 1-877-875-2927.
Driving an RV: What You Need to Know.
An RV is any motor vehicle or trailer that includes living quarters designed for accommodation, such as a kitchen, a bathroom, and one or more sleeping quarters. Today's recreational vehicles range from utilitarian models outfitted with basic cooking facilities and a bed to luxury motor coaches complete with air conditioning, water heaters, televisions and satellite receptors, and granite countertops.
Motorized recreational vehicles have a built-in engine, eliminating the hassle of hooking and unhooking the RV from a towing vehicle. There are three classes of motorized RVs:
Class A Recreational Vehicles, including motor coaches and toterhomes, are the most spacious and luxurious RVs on the market. These vehicles range between 26 and 45 feet and are usually big enough to tow another vehicle. Some Class A motorhomes even feature slide-outs to extend living space when parked.
According to the RV Consumer Group, Cass A motor coaches tend to have more structural problems than other options and are more likely to sustain serious damage in a 20-mph collision. There is no rear occupant crash testing for Class A RVs, and federal regulations only require seatbelts for front-seat occupants.
Class B Camper Vans and touring coaches are the smallest motorized option and range from 17 to 23 feet long. The most basic models have a bed and storage, but some also feature bathrooms, dining areas, and room to sleep six.
Camper vans are easier to drive and get better fuel economy than other motorized RV options.
Class B RVs must also meet federal seatbelt standards for front-seat occupants but not the rear.
Class C RVs are the midsized option and range from 20 to 30 feet. There is usually a sleeping area over the cab and another area in the back. Most have a bathroom and small cooking space, and some models feature slide-outs. However, Class C RVs usually aren't able to tow another vehicle.
Like Class A and B RVs, Class C motorhomes are only required to have seatbelts for the front seating positions.
Towable RVs are also known as caravans. These vehicles aren't equipped with an engine and must be attached to a tow vehicle (usually a pickup truck or SUV) for transport. Examples of towable RVs include:
Bumper Pull Travel Trailers connect to a standard trailer hitch and range from 10 to 40 feet.
Pop-up Campers range from 8 to 16 feet and fold into themselves for easy travel and storage. The pop-up is tent-like and offers an open-air feel when in use.
Fifth-Wheel Trailers are the largest towable RV option and extend over the bed of a truck. Fifth-wheels range from 22 to 40 feet and require a pickup truck with a specially fitted hitch. They offer all the amenities of a Class A motorcoach but are easier to store when not in use.
Toy Haulers are trailers or fifth-wheelers that feature a "garage" in the back with a ramp door for access.
Most states do not require a special license for RVs weighing under 26,000 pounds or towed vehicles under 10,000 pounds. But some states do require a non-commercial license to drive an RV above a particular length or weight, while others require a commercial driver's license (CDL) to operate the largest motorhomes and trailers.
Twenty-two states require all RV occupants – including children — to use a seatbelt, and 26 have seatbelt requirements based on a child's age. Several states require seatbelt use for the front seats only, and others – like Colorado – exempt RVs from child safety seat requirements.
Leading Causes of RV Accident and Motorhome Crashes
Some of the most common causes and contributors to RV crashes include:
Inexperienced Drivers: Although motorhomes, camper vans, fifth wheelers, and toy haulers are more challenging to maneuver than typical passenger vehicles, many states don't require specialized training or licensing to drive an RV.
Speeding: Because of their large size, recreational vehicles are much harder to control than standard passenger vehicles, especially if traveling at a high rate of speed.
High Winds: As RVs have become more lightweight and cost-efficient, they're also more likely to flip over in high winds, especially if the vehicle is traveling at a high rate of speed.
Fatigued Drivers: Anxious to get to their destination, many RVers stay on the road until they're practically falling asleep. While drowsy driving is dangerous for everyone, the sheer size of an RV means there's even less room for error.
Overloaded or Unevenly Loaded RVs: Driving an overloaded RV places added stress on the tires, axles, brakes, engine, and transmission, increasing the likelihood of an accident. An unevenly loaded vehicle will place too much weight on some tires, leading to uneven tire wear and possibly a blowout.
Detached Trailer: Trailers must be adequately secured to prevent detachments and collisions with other vehicles.
Rollovers: Because recreational vehicles have a higher center of gravity, they're more likely to roll over when a driver is distracted, careless, speeding, or impaired.
Miscalculated Stops: It takes much longer to stop an RV compared to a smaller passenger vehicle. An accident can occur if the driver doesn't start braking in time or if the braking system isn't wired correctly from the trailer to the towing vehicle.
Miscalculated Turns: Because RVs are so large, cornering is quite different compared to a typical passenger car. The driver must take wider and slower turns to ensure the vehicle stays in its lane.
Blind Spots: The blind spots on an RV are also much different compared to a standard passenger vehicle. If a recreational vehicle lacks a back-up camera, performing a complete walk-around before backing up will prevent collisions with any people, animals, or objects in its path.
Staying Safe in an RV
Depending on their size, an RV can be as difficult to maneuver as a semi-truck, take just as long to stop, and have similar blind spots. Compared to typical passenger vehicles, they're more likely to flip over in high winds and have a higher center of gravity that makes them more prone to rollover accidents.
If you're planning an RV vacation, keep these tips in mind to stay safe on the road:
Be Aware of Size: Driving a motor coach or travel trailer requires route planning to ensure ease of maneuverability. An RV GPS device or Trucker Atlas can alert you to low bridges or other restrictions before you begin your trip. You'll also need to choose gas stations that allow plenty of room for maneuvering around the pumps and parking areas.
Know that Wide Turns are Required: RVs require wide turns to stay in your lane and to avoid taking your rear tires up onto the curb. Watch your rear-view mirrors, stay as close to the center lane as possible, and be aware of impatient drivers who may try to pass you.
Take it Slow: With all that extra weight behind you, braking will take some extra time. Speeding in an RV inhibits your ability to brake on time and increases the likelihood of a crash. You'll also need to maintain a greater distance from the vehicles in front of you to ensure adequate reaction time.
Maintain Your RV. Keep up with preventive maintenance and conduct regular inspections of your RV systems, especially brakes and other components that can cause an accident while you're traveling.
Double Check the Tires: Tire blowouts are the leading cause of RV accidents. Make sure they're not worn, under-inflated, or overloaded before every trip.
Keep Up with RV Recalls: While manufacturers and dealers will issue recall notifications, some RV owners only become aware of a recall when they experience a problem or have an accident.
Be Aware of the Weather: Adverse weather conditions, including rain, fog, sleet, and high winds, contribute to a significant number of RV accidents. If the weather turns nasty while you're on the road, pull over and wait it out. After a storm, stay alert for downed trees and power lines, and never drive through standing water.
Use Seatbelts and Child Safety Seats: Before renting or purchasing an RV, make sure the cab is appropriate for installing a safety seat. Smaller Class B and C RVs built on a conventional van/truck chassis must meet the same safety standards as passenger vehicles for the front and are more likely to have features to install a child safety seat.
If you're traveling with kids, your best bet is a towable trailer so your children can travel properly restrained in the towing vehicle. But make sure the driver has experience towing the trailer.
Contact The Killino Firm Today
The Killino Firm's RV Accident Lawyers have the knowledge and resources to ensure every responsible party is held accountable for your injury. If you or a loved one were hurt in an RV accident,  call toll free at 877-875-2927, to contact an attorney and get the legal help you need today.