Paralysis
At the Killino Firm, we know traumatic, life-changing injuries such as paralysis. We recognize the trauma and life-long hardships associated with paralysis and have dedicated much of our practice to helping victims of paralysis and their families recover the compensation they need to pay for costly medical bills, long-term treatment costs, lost wages and pain and suffering.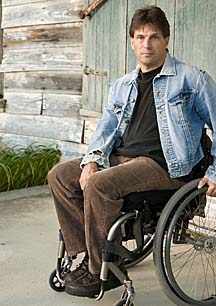 At the Killino Law Firm we have extensive experience in effectively representing victims of paralysis and other traumatic injuries. We understand that paralysis is a traumatic injury and can change our clients' lives forever. As a result, we are known for providing personalized and caring representation, while zealously fighting for our clients at every stage of the process, including trial, if necessary.
Injury Attorneys in the Media
The Killino Firm has been recognized, nationally, for protecting the rights of the injured. In addition to helping our clients recover millions of dollars in compensation for their individual injuries and losses, we have been recognized for promoting a safer America.
View the Killino Firm in the media.
Common Causes of Paralysis
Approximately 10,000 people become victims of paralysis each year. Caused by an injury to the spinal cord, many cases of paralysis are preventable and result from accidents caused by another's negligence, recklessness or intentional harm. While there are many incidents that may lead to paralysis, some of the most common causes include:
Auto accidents
Slips and falls
Violence
Sports-related injuries
Workplace accidents
According to statistics, motor vehicle accidents are the number one cause of paralysis, accounting for more than 40 percent of paralysis injuries each year. Falls account for nearly 20 percent of paralysis injuries, and violence and sporting events are the two other major causes of paralysis.
Types of Paralysis
There are different types of paralysis, depending on where the injury to spinal cord occurs, including:
Paraplegia (damage to the torso and lower part of the body)
Quadriplegia (damage to the torso, arms and legs)
Paralysis victims may also lose feeling in certain parts of their bodies and/or control of their bodily emissions. Regardless of the type of paralysis, or even the cause, discovering you or your loved one has been paralyzed is a devastating event. At the Killino Firm, we understand that when paralysis occurs, a person's life will never be the same.
In addition to the immediate costs including medical and hospital bills, there are life-long costs including treatment and care. At the Killino Firm, we fight aggressively to assure that victims of paralysis receive the compensation they need to cover, not only their financial losses, but also their physical and emotional losses as well.
Contact the Killino Firm Today
If you or a loved one has suffered a traumatic injury such as paralysis as the result of another's wrongdoing, the qualified legal team at the Killino Firm is standing ready to help you. We go the extra mile in every case and will exhaustedly investigate every shred of evidence in your case to not only discover what happened, but why.
Using cutting edge technology, we evaluate every option until we determine who was responsible, and we then proceed aggressively so that our clients receive all of the compensation they are entitled to. That's The Killino Firm Difference.
When you need a lawyer who will exhaustively investigate a paralysis case and make sure that every responsible party is held accountable, contact The Killino Firm where Keeping America Safe is our primary goal. To speak with one of our attorneys, please fill out the form on this page, call us toll free at 877-875-2927, or email a personal injury lawyer. We will respond promptly to your inquiry so that you can experience The Killino Firm Difference.