Defective Chinese Toys
At The Killino Firm our goal is Keeping America Safe. When children were exposed to lead in Mattel toys manufactured in China, The Killino Firm filed a class action lawsuit against Mattel to force the toy manufacturer to pay for testing of children at risk of lead poisoning from its toys. This lawsuit followed the August 14, 2007 recall in which 436,000 "Sarge" vehicles from Mattel's "CARS" product line were removed from store shelves because the toys were manufactured with paint containing lead, thus posing a risk of lead poisoning for children. That's The Killino Firm Difference.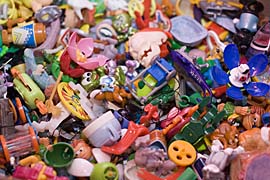 We do not believe consumers should be exposed to unsafe products or that our children should play with toys containing lead paint or other dangerous components. China produces 80 percent of the world's toys, some of which contain lead paint. We want to make sure that "Made in China" will no longer mean "Danger." Lead paint is not restricted to toys, and the dangers of these products can impact the health of every consumer.
The list of Chinese products recalled by the U.S. Consumer Product Safety Commission continues to grow. According to the New York Times, China manufactured each of the 24 kinds of toys recalled for safety reasons in the United States in 2007, including:
Barbie accessories
Sarge vehicles from Matte's "CARS" product line
Geo Trax and Bongo Band by Fisher-Price
Fisher-Price character toys, including Elmo from Sesame Street, Dora the Explorer, and SpongeBob Squarepants
Breyer Stirrup Ornaments
Deluxe Art Sets
Winnie-the-Pooh Play Sets
And the list continues to grow daily
Even worse, according to the Associated Press, American consumers can expect to pay more for toys this years so that toy makers can pay for the increased vigilance necessary to monitor all of the toys they import. In other words, every consumer will pay more because toy manufacturers and other companies have cut corners and adopted the practice of importing dangerous products.
At The Killino Firm, we fight so that consumers do not pay more because toy manufacturers, tire makers, and other companies want to save a few pennies and make large profits by selling inferior products made in China. From CNN to ABC to Fox and around the world, we make the news because we are dedicated to assuring that our clients, and every American, can feel safe and secure when buying tires, playing with toys, and using the many items we take for granted in our daily lives. That's The Killino Firm Difference.
When you need a lawyer who will exhaustively investigate your case and make sure that every responsible party is held accountable, contact The Killino Firm, where Keeping America Safe is our primary goal. To speak with one of our attorneys, please fill out the form on this page, call us toll free at 877-875-2927, or email a product liability lawyer. We will respond promptly to your inquiry so that you can experience The Killino Firm Difference.
For more information about defective toy recalls, visit the Consumer Products Safety Commission at www.cpsc.gov or the U.S. Government recalls website at www.recalls.gov.