Airplane Crashes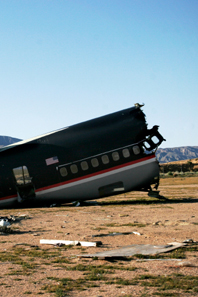 At The Killino Firm we know catastrophic events such as airplane crashes. From a death and injury case that prompted a national Chinese tire recall through the National Highway Traffic Safety Administration (NHTSA) to a class action lawsuit against Mattel Inc., seeking to compel them to pay for medical testing of children who played with or were exposed to recalled toys, we know how to handle cases involving serious injuries, tragedy and death.
Our attorneys have been recognized nationally for their involvement in major catastrophes. Their knowledge and expertise will benefit those seriously injured in or family members of those who have been killed in airplane crashes.
At The Killino Firm, we understand that our clients have suffered serious, at times traumatic injuries, and need a law office that will offer compassionate, yet aggressive representation at every stage of the legal process. If you or a loved one has been injured or killed in an airplane accident, please contact our lawyers at the Killino Firm today.
The Killino Firm's Airplane Accident Attorneys in the Media
From CNN to ABC and around the world, we make the news because we are dedicated to ensuring America is safe and secure. Please browse The Killino Firm in the media.
Although The Killino Firm has recovered millions in compensation for our clients, our true accomplishment is promoting safety for every American and his/her family.
The Killino Firm: Experience, Knowledge, Results
At The Killino Firm, we go the extra mile in every case. We treat every client and every case with the same intensity as we have the Chinese tire recall and Mattel class action cases. When something goes wrong, the lawyers and staff of The Killino Firm are prepared to investigate every aspect of the accident in order to discover not only what happened, but why.
Using cutting edge technology, we evaluate every option until we determine who was responsible, and we then proceed aggressively so that our clients receive all of the compensation they are entitled to. That's The Killino Firm Difference.
Leading Causes of Airplane Crashes
While there are many factors that may cause a plane crash, some of the leading causes include:
Pilot error
Defective equipment
Mechanical malfunctions
Faulty aircraft design or construction
Violations of FAA regulations
Poor weather conditions
Negligence of air control or ground crew maintenance personnel
The majority of airplane accidents occur during take off or landing and are caused by pilot errors or mechanical malfunctions.
Airplane Crash Statistics
According to the National Transportation Safety Board (NTSB):
More than 110,000 airline accidents have occurred since 1967
In 2005, there were approximately 1,764 airplane crashes, resulting in 600 fatalities.
From 1998 to 2004, low-level maneuvering of an aircraft was the leading cause of fatal crashes.
From January 2006 to July 2006, there were five midair collisions, all with fatal outcomes.
Experienced Airplane Accident Attorneys
The families of airline crash victims consult with The Killino Firm because they know that we will examine every factor involved in the accident and fight to assure that our clients will receive all of the compensation they are entitled to. Because airplane crashes generally result in the loss of life, extreme grief, sadness and a mourning period are inevitable.
At The Killino Firm, we recognize that the loss of a loved one changes a family forever. As a result, we provide personalized and caring representation, while zealously fighting for our clients at every stage of their cases, including trial, if necessary.
Contact The Killino Firm Today
When you need a lawyer who will exhaustively investigate an airplane crash case and make sure that every responsible party is held accountable, contact The Killino Firm, where Keeping America Safe is our primary goal.
To speak with one of our attorneys, please fill out the form on this page, call us toll free at 877-875-2927, send an email to our Attorneys. We will respond promptly to your inquiry so that you can experience The Killino Firm Difference.