Whether you're working out at the local health club or using in-home gym equipment to get fit, exercise-related injuries are always a risk. And while some injuries result from overexertion or poor technique, far too many occur due to defectively designed or manufactured equipment, dangerous premises, or negligence on the part of a fitness center or personal trainer.
The Killino Firm's Exercise Injury Lawyers believe the victims of faulty equipment, negligent gyms, and careless exercise instructors deserve compensation for their pain and suffering. If you or someone you love was injured or tragically killed while using in-home gym equipment or working out at the fitness club, you may be able to file a lawsuit against those responsible. To learn more, call our law firm toll-free at 877-875-2927 to speak with an attorney and learn more about your legal rights.
How Common are Exercising Injuries?
Staying physically fit is essential to maintaining overall health and well-being. But unfortunately, working out isn't always safe – especially if you're dealing with defective exercise equipment, a negligent gym, or a poorly trained or reckless fitness instructor.
According to data from the National Electronic Injury Surveillance System, more than 70,302 injuries treated at U.S. emergency rooms from 2007 through 2011 were related to the use of in-home mechanical exercise equipment.  Researchers writing in the American Journal of Sports Medicine also reported that more than 250,000 people were admitted to emergency rooms between 1999 and 2007 to treat weight training-related injuries.
Another study published in the Orthopedic Journal of Sports Medicine found that the overall injury rate among CrossFit participants is around 20%. Most of the injuries detailed in the study involved the shoulders, lower back, and knees.
The growing popularity of HIIT (high-intensity interval training) programs has also coincided with an increased rate of injury, especially those affecting the knees and ankles, trunk, and upper extremities.
Injuries Caused by Defective Exercise Equipment
Injury risk increases significantly when exercise equipment is defectively designed or manufactured, or incorrectly assembled, installed, or used due to inadequate instructions or warnings. In fact, people suffer injuries while using exercise equipment every day, regardless of their age or fitness level.
Depending on the severity, the consequences of an exercise-related injury can vary widely and may include temporary discomfort, long-term or permanent disability, and even death. Some of the most common injuries caused by faulty equipment include:
Muscle and tendon sprains and strains
Knee injuries
Cuts and scrapes
Severe abrasions
Face and eye injuries
Head and brain injuries
Bone fractures
Neck and spinal cord injuries
Treadmills cause a significant percentage of exercise-related injuries, often because their belts are improperly misaligned or inadequately tightened. Safety features might be missing, such as an auto-stop function if the user falls. Any moving belts or hanging cables will also pose dangers to children in the home.
Other potentially dangerous fitness equipment includes:
Exercise bikes:Missing and broken pedal straps, improperly attached seats or handlebars, or exposed gears and belts can catch on clothing or pinch the skin.
Resistance Bands: People have suffered severe facial and eye injuries when a resistance band slipped, snapped, or broke.
Weight Lifting Equipment: Weight racks, cables or bars, and dumbbells can also cause significant injury if damaged, defective, or worn.
Unstable Workout Machines: Poorly designed or improperly installed equipment, including elliptical machines, stair climbers, and pulley systems can tip over while in use.
You may be able to file a products liability lawsuit against a manufacturer, retailer, and/or fitness club operator if an exercise-related injury resulted from one or more of these equipment defects:
Design defects: A flaw was built into the equipment when it was first manufactured or in the course of a design modification. For example, heavy machines are defectively designed if a high center of gravity makes the equipment prone to tipping over.
Manufacturing defects. Even if the product's design was safe, mistakes could be made while equipment is being manufactured. Missing bolts, exposed wires, and other manufacturing errors increase the risk of injury.
Marketing defects ("Failure to Warn"): Manufacturers and other parties are liable for injuries when they haven't provided enough information for safe installation or use.
Exercise Equipment Recalls
Recalls involving dangerously defective exercise equipment are surprisingly common. Unfortunately, some of these faulty products weren't recalled until multiple users had already sustained severe injuries.
Rep Fitness Recalls Strap Safety Brackets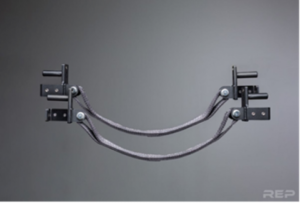 Most recently, on February 12, 2021, Rep Fitness recalled around 1,940 Strap Safety brackets after receiving three reports of brackets breaking due to improper welds.
Strap Safeties are designed to prevent damage to barbells due to missed lifts during weightlifting.  The recalled Strap Safety brackets are black and attach to a squat stand's weight-lifting posts to ensure the strap safeties stay in place. The straps on the Strap Safety products are secured to the brackets with a heavy-duty bolt. If the brackets aren't welded properly, a sudden drop of weight onto the Strap Safeties can cause the brackets to detach from the weightlifting device, posing an injury hazard.
This recall involves PR-4000 (SKU No. PRA-4120) and PR-5000 (SKU No. PRA-5122). The SKU numbers can be found on the product packaging.
Consumers should immediately stop using the recalled brackets and contact Rep Fitness for free replacement brackets.  Rep Fitness is directly contacting all known purchasers of the recalled brackets.
Nautilus Recalls Bowflex SelectTech 2080 Barbell Sets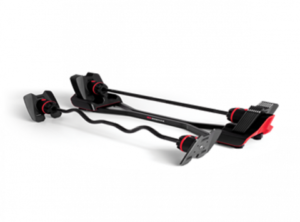 One day later, Nautilus recalled around 3,700 Bowflex SelectTech2080 Barbells with Curl Bar because the weight plate can fall from the end of the barbell, posing an impact injury hazard. Nautilus has received one report of a weight plate falling, causing property damage.  No injuries have been reported.
The recalled equipment consists of two metal bars, one straight and one curled. The barbells are black with a red "Bowflex" logo on the weight selector dial. The storage tray is marked with the word "Bowflex" and its logo in the center.
The barbell sets were sold at Dick's Sporting Goods, Nebraska Furniture Mart, Play It Again Sports, and online between June 2020 and July 2020 for about $550.
This recall was Nautilus's second involving Bowflex SelectTech weight sets since 2012.
Consumers should immediately stop using the recalled barbells and contact Nautilus to receive a free kit with replacement straight and curl bars.  Nautilus will ship a kit to customers who purchased the barbells directly from Nautilus.
Fit For Life Recalls SPRI Ultra Heavy Resistance Bands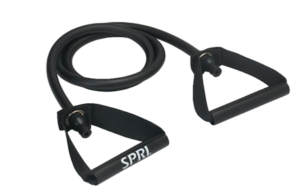 In October 2019, Fit For Life recalled around 95,000 SPRI Ultra Heavy Resistance Bands because the rubber bands could separate from the handle and strike consumers, posing an injury hazard. The company received ten reports of such incidents, including six in which users suffered contusions, abrasions, and lacerations.
This recall involved SPRI ultra heavy resistance tubes or bands used for exercising. They are black with nylon webbing and have SPRI printed on the handles in white. Some units have KN08/18, KN09/18, or KN10/18 printed on the handle. Model number 02-71669 is printed on the bottom of the packaging. They were sold to Walmart stores nationwide and online at Walmart.com from August 2018 through July 2019 for about $10.
Consumers were advised to stop using the recalled ultra-heavy resistance tubes immediately and contact Fit For Life for a refund in the form of an SPRI.com store credit for the amount equal to the purchase price or a free replacement resistance band.
Octane Fitness Recalls Elliptical Cross Trainers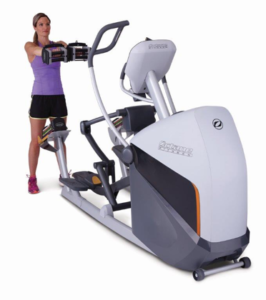 In March 2018, Octane Fitness recalled around 570 XT-One elliptical cross trainers because the incline lead screw could shear off, causing the foot pedals to drop unexpectedly, resulting in a fall hazard to the user. The firm received seven reports of the foot pedal dropping unexpectedly, including one account of a scrape to the knee or leg area.
This recall involved the Octane Fitness XT- One elliptical cross trainer. "Octane Fitness" is printed on the rear of the keypad and the side of the cross trainer. The cross trainers measure 33 inches by 99 inches.  These standing elliptical cross trainers were available in various shades of gray, green, and orange. They also had steel tubing with plastic shrouds and a 10-inch glass capacitive touch screen, or a large LED display with integrated capacitive buttons. Only cross trainers with model numbers XT5700 are included in the recall. The model name XTOne is printed on the incline support column.
The recalled exercise machines were sold at specialty fitness stores, distributors, and direct sales to commercial clubs and gyms nationwide from August 2015 through November 2017 for between about $8,000 and $10,500.
Gym and Fitness Center operators were advised to immediately stop using the recalled cross trainers and contact Octane Fitness LLC for repair instructions. The firm also contacted all known purchasers of the recalled cross trainers directly.
Core Health & Fitness Recalls StairMaster Stepmill Exercise Equipment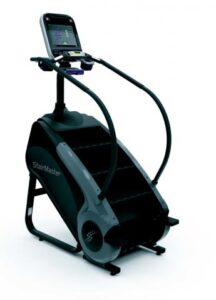 In August 2018, Core Health & Fitness recalled around 3,500 StairMaster branded 8G Gauntlet Stepmill machines because the steps could accelerate rapidly without input from the user, posing a fall hazard. The firm has received 52 reports of unexpected acceleration, resulting in 12 minor injuries.
This recall involved StairMaster branded 8G Gauntlet Stepmill machines with model numbers 9-5250 & 9-5270. The machines are available in red, black, and red/yellow and consist of a revolving staircase and a backlit LCD console. The model number is printed on the base of the unit. The date code is in the YYWW format (1816 means the year 2018, week 16).  The date code is the section of the serial number at digits 8 – 11 (see photo). The date code range for SKU 9-5250 is from 1734 to 1823.  The date code range for SKU 9-5270 is from 1813 to 1816. Stairmaster is printed on both sides of the unit and the shrouds. They were sold by Core Health & Fitness distributors nationwide from October 2017 through June 2018 for between $7,500 and $9,950.
Consumers were advised to immediately stop using the recalled exercise machines and contact Core Health & Fitness for a free repair. The firm also contacted all known purchasers directly.
Cybex Recalls Smith Press Plate-Loaded Weight-Lifting Equipment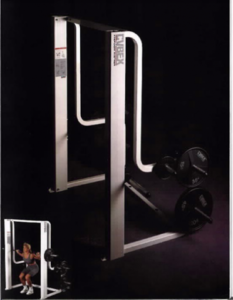 That same month, Cybex recalled about 15,000 units of Smith Press Plate-Loaded Weight-Lifting equipment because the weight bar can fall, posing serious injury hazards to the user. Cybex received 27 injury reports related to this issue, including incidents that resulted in paralysis and spinal fracture.
The recall involved Cybex Smith Press model 5340, manufactured and distributed from 1989 through 1993, and model 5341, manufactured and distributed from 1993 through 2009. The models have a weight bar seated between two parallel vertical tracks on latch pins. The weight bar can be moved up and down to perform upper body and lower body exercises. The weight bar was sold with the Smith Press, and the weights were purchased separately. The model number is printed on the base of the frame of the Smith Press equipment.
These products were sold through Cybex direct sales representatives and fitness equipment dealers to fitness facilities and gymnasiums and online at www.cybexintl.com from 1989 through 2009 for between $1,000 and $3,400.
Gyms and health club operators were warned to immediately stop using the recalled weight-lifting equipment and contact Cybex for instructions on receiving a free repair for model 5341 or a credit or refund of the current value for model 5340. The firm also contacted all known purchasers.
Core Health & Fitness Exercise Machine Recall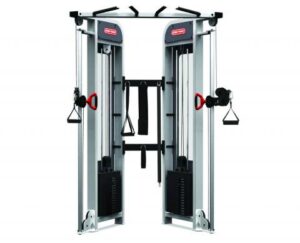 In July 2017, Core Health & Fitness recalled around 3,600 exercise machines because the weight adjusting carriage assembly can loosen and fall on the consumer, posing an impact hazard. The company received 48 reports of the height-adjusting carriage assemblies loosening and falling, resulting in 31 reports of injuries, including cuts requiring staples or stitches.
This recall involved five styles of Inspiration Cable Cross Over and Dual Adjustable Pulley machines installed primarily in fitness centers and gyms.  The units are stainless steel adjustable pulleys with single-hand adjustment designs and high-low cable positioning components. "Inspiration" is printed on each Dual Adjustable Pulley model, and "Star Trac" or "Nautilus" is printed on the Cable Cross Over models.
Gyms and health clubs were warned to immediately stop using the recalled exercise machines and contact Core Health & Fitness to schedule a free onsite repair. The firm also contacted all known purchasers directly.
Nautilus Recalls Bowflex SelectTech 1090 Dumbbells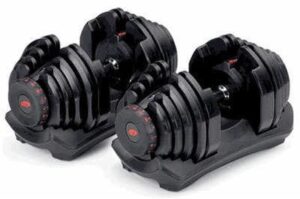 In June 2012, Nautilus recalled around 17,000 Bowflex SelectTech 1090 Dumbbells because the weight selector dial on the units can fail, causing weight plates to fall when the dumbbell is lifted from its cradle. The company received 16 reports of the weight selector dial failing, including three reports of injuries to the user's foot or leg.
These black steel dumbbells came in pairs and can have a weight capacity of 10 to 90 pounds. The word 'BOWFLEX' is written in grey along the top of each handle. A selector dial on each end of the cradle lists weights in red, starting at ten and increasing in increments of five. The red Bowflex logo is at the center of the dial. They were sold at sporting goods stores, Nautilus.com, and other online retailers from May 2011 through August 2011 for about $600.
This recall only involves units with a date-of-manufacture code in the serial number in the range of 1111 through 1136. The date code is the four-digit code following the letters "MAG" in the serial number. The serial number is on a white label on the bottom of the cradle. Lift the dumbbell from the cradle with all weights attached before turning over the base. Dumbbells with a black dot on the inside portion of the weight selector dial are not affected by this recall.
Consumers were advised to stop using the recalled dumbbells immediately and contact Nautilus for a free repair kit.
 "I Was Hurt at the Gym. Can I Sue?"
When you sign up for a gym membership or hire a personal trainer, you'll likely be required to sign a liability waiver or release that might prevent you from pursuing some claims for compensation in the event you're hurt. But depending on the specific circumstances of your case, it could still be possible to file a lawsuit if negligence on the part of the fitness center, an instructor or personal trainer, or an equipment manufacturer caused or contributed to your injury.
Gyms are responsible for maintaining a reasonably safe environment for their members. This means they should ensure all equipment is cleaned regularly and the premises maintained in a safe manner. For example, you could be entitled to compensation if you tripped and fell on a slippery surface in a spa, pool area, lobby, or group fitness area. Other premises liability claims resulting from a gym-related injury could include:
Layout of the gym is dangerous (i.e., machines are too close together)
Contract a serious illness (such as a staph infection) from unsanitary equipment,
Suffer an injury because of improperly installed or maintained equipment
Trip or fall because an electrical cord is on the floor
The spin bike room is too dark, posing a trip or fall hazard.
Negligence claims can arise if a health club or personal trainer:
Fails to provide an AED or is slow to aid a patron who might be suffering a heart attack or cardiac arrest.
Employs uncertified/untrained/ unqualified trainers or fitness instructors.
Fails to provide proper instruction or warnings.
Fails to regularly inspect fitness machines or remove/replace worn-out or broken equipment.
Fails to supervise (Lifeguard negligence) a pool area.
Equipment manufacturers must ensure their products are safely designed, produced to industry standards, and labeled with warnings about potential risks. If you've been hurt because of defective or unsafe gym equipment, you may be able to file a product liability claim against the equipment company.
If someone you loved died because of negligence on the part of a gym, personal trainer, or equipment manufacturer, you and your family might also be entitled to pursue claims for their wrongful death.
If you are hurt while exercising at a gym or with a personal trainer, it's essential to act quickly to ensure your rights to compensation are protected and preserved:
Inform the manager on duty or your trainer about the injury right away.
Seek immediate medical attention.
Write down the names and contact information of any witnesses.
Keep all records associated with your injury, including bills for treatments and copays.
Keep all medical appointments and follow all doctors' instructions while you recover.
Discuss your case with an experienced personal injury attorney as soon as possible.
Contact Us
Our Exercise Injury Lawyers have the resources and experience to ensure the victims of negligent gym operators, careless personal trainers, and defective exercise equipment receive the compensation they deserve. If you or a loved one were injured while exercising through no fault of your own, we are ready to file a lawsuit on your behalf. Please do not hesitate to contact the Killino Law Firm for a free legal consultation at 1-877-875- 2927.