Until someone has been in or observed a crash involving a semi-trailer, 18-wheeler, long-haul, or other large commercial motor vehicle, the extent of damage and injuries that can be sustained by occupants of other vehicles involved in these accidents is difficult to fathom. Semi-trailers or 18-wheelers measure an average of 70 to 80 feet in length and, when carrying loads of legal weight (without oversize or overweight permits), can weigh up to 80,000 pounds, or 40 tons. One consequence of these vehicles' extra weight is that they take a greater distance and 40% more time to stop than do average cars. Of even more significance is the effect an impact from one of these vehicles can have on other smaller vehicles and their occupants. For these reasons and more, the trucking industry is subject to strict regulation, including federal regulations aimed at keeping fatigued drivers of these mammoth machines off our highways.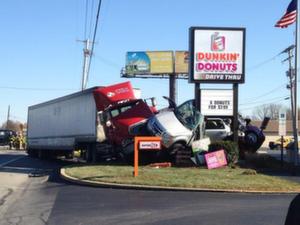 On Wednesday, November 19, 2014, the driver of a big-rig tractor-trailer fell asleep while driving southbound on a Berks County, Pennsylvania, highway, plowed into a line of cars stopped at a traffic light on the southbound side and then crossed into the opposite side of the roadway and crashed into two cars that were about to exit a parking lot. According to reports, several of the impacted vehicles in the 10-vehicle pile-up flipped over, and the two cars at the parking lot exit were smashed between the truck and a large Duncan Donut's sign. A 34-year-old woman and a 23-year-old man were killed and nine others were injured in the accident. The 50-year-old truck driver, who escaped without injury, has reportedly been charged with two counts of homicide by vehicle, two counts of involuntary manslaughter, nine counts of aggravated assault while driving, and 10 counts of reckless endangerment. (The same driver was reported to have pleaded guilty to an operating-unsafe-equipment violation in October 2014.)
Drivers of large commercial motor vehicles who drive for extended periods of time without the rests or breaks required by federal law, or who otherwise drive while tired or not sufficiently alert, often cause horrific accidents, injuries, and death. Truck accident cases can be extremely complex, generally require the testimony of several types of experts, and often result in the liability of multiple defendants. The Killino Firm's truck accident lawyers have considerable experience and expertise with trucking accident cases, including those arising out of crashes caused by truck driver fatigue. If you have been injured or one of your family members has been killed in a truck crash of any kind, The Killino Firm's nationally recognized team of truck accident attorneys and paralegals can help you obtain the compensation you deserve from the parties responsible for your injuries or loved one's death.
Holding Truck Companies and Drivers Legally Responsible for Negligently Caused Accident Injuries and Deaths
The Federal Motor Carrier Safety Administration (FMCSA) enacted Hours of Service (HOS) regulations to reduce the occurrence of accidents caused when operators of big-rigs and other large commercial motor vehicles in interstate commerce drive while fatigued. These regulations limit when and for how long such drivers may drive without breaks or rest. Commercial motor vehicles that are used in interstate business and are over a specified weight, as well as other vehicles specified in the regulations, are subject to these limitations. Drivers of property-carrying vehicles may drive for 11 consecutive hours, but only after they have taken 10 consecutive hours of rest. They are also prohibited from driving more than 60 hours in7 consecutive days or more than 70 hours in 8 consecutive days.
A driver's or trucking company's violation of these or any other HOS regulations may be considered negligence by the driver or company in an action seeking to recover damages for injuries or deaths caused by the driver's and/or company's negligence. If, for example, a trucking company required a driver to carry a load between one point and another within a time period that necessitated driving for more consecutive hours than allowed by HOS regulations, the company as well as the driver can be found to have violated the regulations and may be held legally responsible for any injuries and deaths determined to have resulted from the violations.
Even when a truck driver has not violated HOS or other regulations, however, the driver may be found to have been negligent under the particular circumstances involved in a vehicle crash and, thus, liable for accident victims' injuries and deaths determined to have been caused by the driver's negligence. Though a particular driver's falling asleep may not have resulted from a violation of any HOS regulation, the driver may, nevertheless, be found to have been negligent for driving while overtired or fatigued. Drivers of any vehicles, including cars, buses, and trucks involved in intra- or interstate commerce, have a duty to exercise reasonable care for the safety of pedestrians and the occupants of other vehicles at all times while driving. Driving when tired or not sufficiently alert for any reason may be found to constitute negligence on the part of any driver whose fatigue or lack of alertness is determined to have resulted in someone's injury or death, regardless of whether the driver has violated an HOS or other regulation.
Obtain Expert Assistance from The Killino Firm, P.C.
The Killino Firm's trucking accident lawyers have been recognized from coast to coast for their expertise in truck accident cases and their aggressive pursuit of justice from all those who have caused victims' truck crash injuries and deaths. Contact The Killino Firm for experienced and dedicated assistance with your trucking injury case.