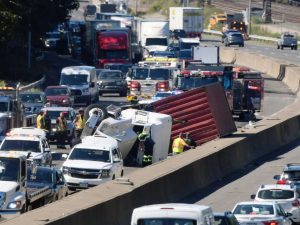 After four tractor-trailer accidents occurred in the same area of highway, the Maryland Motor Truck Association issued a warning "to use extreme caution" while driving that section –a sharp turn and then a steep downhill grade on the interstate from the Garrett County line through Cumberland.  One tractor-trailer jackknifed August 2, and three crashes in October occurred, one of which resulted in four fatalities.
The fatal truck crash happened when a vehicle rear-ended a tractor-trailer that was stopped in the left lane of the road, waiting for a school bus loading students at a stop. The jackknifed tractor-trailer snarled traffic on Interstate 695 for hours on a Saturday afternoon after it hit a jersey wall, causing three vehicles to crash and hospitalizing two people.
Tractor-Trailer Accident Causes and Prevention
Speed is the major cause of the crashes, according to Charlie Gischlar, spokesperson for the Maryland State Highway Administration (SHA). He told the Cumberland-Times News that State Police " inspected over 47,000 trucks at the nearby Finzel weigh station this year and are aggressively monitoring truck speeds to curb the spike in truck incidents." He said the SHA are working with Maryland State Police and the Commercial Vehicle Enforcement Division to formulate strategies to improve motorists' safety, including flashing yellow lights at electronic message signboards alerting truck drivers to a 45 mph speed limit.
Tailgating is another major cause of tractor-trailer crashes: an employee of a BFS store at Grantsville, told the Times-News that it's "pretty common" and on a scale of one to 10, with 10 being the most dangerous, "Interstate 68 is a solid 8 every time I come through."   During a fuel stop at Grantsville, a truck driver said more law enforcement is needed to slow down drivers and to curb cell phone use.
Another trucker disagreed. "Fines don't seem to work. Fatal accident stats and stories don't work. People always think it won't happen to them," said Allen Winn from Pennsylvania. But he did agree about increasing more police enforcement. "Any trucker that runs 68 regularly knows there's usually no cops through that 45-mile-an-hour section and they just can roll through."
At the Killino Law Firm we understand the laws that govern all motor vehicle accidents, particularly tractor-trailer accidents.  Our highly trained and experienced legal team has a proven track record of success in handling such accidents nationwide, and we know about highway safety.
While most crashes have more than one contributing factor, vehicle failure, following too close, overcompensating while steering evasively, fatigue or falling asleep at the wheel and physical impairment are major contributing factors. Vehicle, driver and environmental factors may have contributed to the accidents also, although they did not always contribute to the crash.
Large Truck Crash Statistics
The most recent Large Truck and Bus Crash Facts ( LTBCF) reports that in 2017,
4,889 large trucks and buses were involved in fatal crashes, a 9-percent increase from 2016.
The number of fatal crashes involving large trucks or buses increased by 8 percent
There were 13.0 fatal large truck crashes per million people a 23-percent increase from 10.6 in 2010.
Single-vehicle crashes (including crashes that involved a bicyclist, pedestrian, non-motorized vehicle, etc.) made up 20 percent of all fatal crashes, 15 percent of all injury crashes, and 23 percent of all property damage only crashes involving large trucks. The majority (63 percent) of fatal large truck crashes involved two vehicles.
According to a study conducted for the Federal Motor Carrier Safety Administration:
Twenty-seven percent of trucks were found to have brake problems
Nineteen percent of drivers were unfamiliar with the route
10 percent of truck drivers felt under pressure
Seven percent were overly tired
Three percent experienced tire problems
Five percent were driving in an aggressive manner
One percent were ill
0.4 percent were under the influence of illegal substances
0.3 percent had been consuming alcohol
Obtain Expert Assistance from The Killino Firm, P.C.
The Killino Firm's tractor-trailer accident lawyers have been recognized from coast to coast for their expertise in truck accident cases and their aggressive pursuit of justice from all those who have caused victims' truck crash injuries and deaths. Contact The Killino Firm for experienced and dedicated assistance with your trucking injury case.