Since late 2017, when electric scooters started zipping around city streets and pavements, at least eight people in the U.S. have died and about 1,500 people injured while using a rentable e-scooter.  While these little, dockless vehicles are convenient and a possible answer to vehicle-related injuries, traffic congestion and air pollution they also bring safety concerns and injury-related lawsuits.  Despite so many reported injuries, more and more of these shared e-scooters are offered by a number of scooter companies, including heavyweights Lyft and Uber.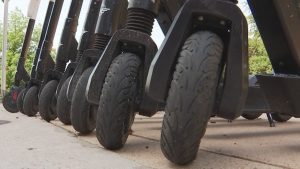 One reason for so many accidents is that people are confused about traffic laws regarding the e-scooters. Consumer Reports recently surveyed over 3,000 adults who didn't understand the laws.  No wonder they are confused:  People don't know where to ride.  For instance, Scooter Company Lime's app instructs people to operate scooters on city streets. But it depends on location. Operating them on the street is against the law in Florida, although Fort Lauderdale permits e-scooters to be ridden on sidewalks. San Diego requires scooter users to use roadways and not sidewalks. But people can ride electric scooters on Portland city streets, multi-use paths and in bike lanes. And the city of Milwaukee has banned Bird scooters.
Among people who have ridden the scooter:
51 percent ride on the sidewalk
26 percent ride in a bike lane
18 percent ride in the street but not in a bike lane
More than one-quarter of users say that pedestrians got in the way during their ride
Two in 10 say they felt unsafe around car traffic
8 percent reported a part of their scooter malfunctioned or didn't work properly
75 percent of the known fatalities with shared e-scooters were due to collisions with cars
The Killino firm wants all scooter companies to provide safe and functioning scooters on the streets. If you or a family member has been injured in an e-scooter accident, contact the experienced attorneys at The Killino Firm today.
E-Scooter Malfunction
Scooter malfunction is causing injuries, according to multiple lawsuits.  Scooter company Lime said it fixed a "bug" found in some of its scooters that caused "sudden excessive braking." The most common malfunctions are the brakes failing, the throttle sticking, and the scooter dying mid-ride.
When riders press the accelerator, it sometimes doesn't spring back. According to one expert, that could happen on some models where the scooter handles are a gummy material that traps the accelerator in the downward position. In other cases the motor just cuts out and the wheels lock up.
Though scooter companies report that the top speed of the scooters is 15 mph (and the reason why they are not allowed on highways) some experts believe the scooters may go much faster downhill, and the brakes may fail to stop a scooter going down a steep hill.
Maintenance Possible Safety Concern
Maintenance could also be an issue, and not all companies are the same. Lime hires mechanics to keep their e-scooters running and Spin also works with independent contractor mechanics in most markets.  Lyft says their team picks up scooters nightly to charge and perform maintenance.
According to CityLab, many of the scooter company Bird's mechanics are former scooter chargers with little training – they are trained via YouTube and get $15 for a fix and $5 for a return to the warehouse. "Remember, riders get on these scooters with the expectation that they are safe and well maintained. If someone hops on and takes off without realizing the brakes aren't working, it can be disastrous… lives are quite literally in your hands" said a Bird mechanic on the RideShareGuy Blog.
At The Killino Firm we understand the laws that govern all motor vehicle accidents, including electric scooters.  Our highly trained and experienced legal team has a proven track record of success in handling vehicle accidents on both the individual and national level.
The Killino Firm believes that electric scooter manufacturers have a responsibility to American consumers and should be held accountable for making and selling defective products. Our e-scooter accident lawyers are experts at digging deep and fighting scooter manufacturers and other companies and individuals that want to save a few pennies but in the process put American's safety at risk.
We also understand that our clients have suffered serious, at times catastrophic, injuries, and need a law office with an e-scooter accident lawyer that will deal with the insurance companies and guide the clients and their families through the maze of medical care and treatment that they face.