Additional details came to light this month regarding the May 2013 collapse of the Skagit River Bridge in Washington State. Though the National Transportation Safety Board (NTSB) has yet to issue its final report, certain information regarding the likely causes of the bridge's collapse has already been released.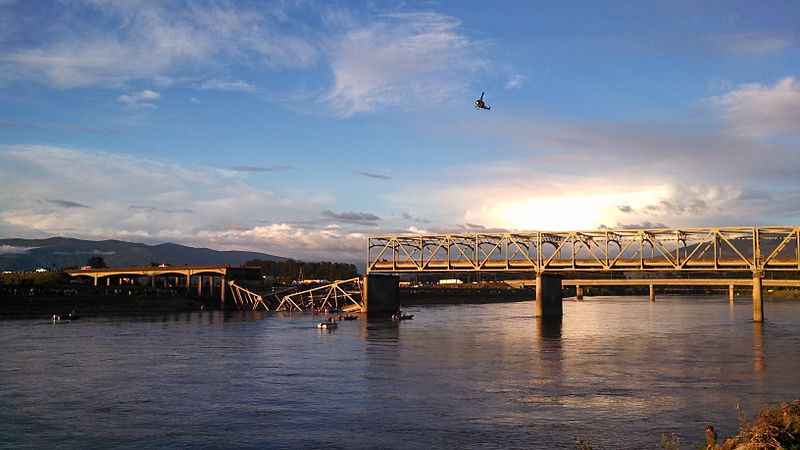 The collapse occurred shortly after a truck—which was being escorted by a pilot driver, due to its oversized load—struck the right side of the bridge. At least one witness reported having seen the pole attached to the pilot driver's vehicle hit the right side of the bridge, as well. Several vehicles fell into the river as a result of the crash, but only minor injuries were sustained by the vehicles' occupants.
In addition to driver negligence, inadequate clearance on the right side of the bridge, improper maintenance, and inadequate inspections have also been cited as possible contributing factors to the bridge's collapse. Though standards for the design, construction, inspection, and maintenance of bridges have been established by organizations such as the American Association of State Highway and Transportation Officials (AASHTO), such standards are often not met, with what may be disastrous consequences.
Liability for Injuries Caused by Bridge or Other Structure Collapses
Liability for injuries sustained in a bridge or other structure collapse may attach to any one of several individuals or entities, depending upon the circumstances of the particular accident and the identity of those responsible for the design, construction, inspection, and maintenance of the bridge or other structure. The issues involved in such cases are parallel in a great many respects to those involved in other types of accidents that may have been caused by a combination of negligence and a defect in a product's design or manufacture. These cases are quite complex and may require the assistance of attorneys experienced in cases involving premises-liability law, vehicle-accident law, and product-liability law.
The Killino Firm's personal injury lawyers, product-liability lawyers, accident lawyers, car-accident lawyers, auto-accident lawyers, truck-accident lawyers, motorcycle-accident lawyers, brain-injury lawyers, and wrongful-death lawyers have extensive experience with all types of accident cases, including those involving vehicle collisions or structure collapses with multiple-defendant liability and complicated issues of causation. If you have been injured in any type of accident involving a structure collapse, negligence, or a defective product, contact the Killino Firm for aggressive and dedicated legal assistance with your case.
Recovery for Injuries Caused by the Collapse of Structures Owned or Operated by Governmental Entities
Cases that arise out of the collapse of a structure, such as a building or a bridge, may involve complicated liability issues, particularly if the structure is owned, operated, or maintained by a governmental entity.
 Sovereign Immunity
If, for example, a bridge or other structure is owned by a state or operated and/or maintained by a state instrumentality, those entities, and/or their employees, may be immune from liability for injuries or property damage resulting from the negligence of the entity or of its employees. In many states, this sovereign immunity has been waived, but the waiver is often given in exchange for a cap on damages that may be obtained in an action for injuries resulting from negligence of the sovereign or its employees. In some states, the waiver of immunity applies only to the state itself, so that the state's employees enjoy complete immunity for injuries caused by their negligence. Statutes of limitations for actions against governmental entities or employees may also differ, in some states, from statutes of limitations applicable to other defendants.
 Indemnification

Even when a state has not waived its sovereign immunity, the state may nevertheless have agreed to indemnify the contractors and/or designers of a state-owned or state-operated structure, so that the damages obtained for injuries resulting from negligence or a defect in the structure will ultimately come from the state, despite its immunity from liability through direct legal action against it.
Recovery for Injuries Caused by Negligent Inspection or Design
The owners, operators, inspectors, builders, and designers of structures not owned or maintained by governmental entities may also be found liable for injuries caused by negligence of the entity or the entity's employees or by a defect in the design or construction of the structure itself.
 Negligent Inspection or Maintenance

If a company has been employed to inspect and/or maintain a privately-owned bridge or building, for example, and the company's employees were negligent in the fulfillment of their duty of inspection or maintenance, both the company and its negligent employees may be found liable for the injuries sustained by a plaintiff in the building's or bridge's collapse if the employees' negligence is determined to have been a cause of the collapse and a plaintiff's resulting injuries.
 Defective Design
 The defective design of a building or bridge may result in liability on the part of the structure's designers if the design defect is determined to have been a cause of the building's or bridge's collapse and a plaintiff's resulting injuries. Thus, a claim might be brought against the designers of a bridge that was built, in accordance with its design, with different clearance heights in different lanes or parts of the bridge. A building designed with inadequate load beams or other structural components found to contribute to the building's collapse may also result in liability on the part of the engineers responsible for the building's design.
 Defective Construction
Even when a structure is adequately and safely designed, the defective construction of the structure may be found to constitute a cause of the structure's collapse and a plaintiff's resulting injuries. If inferior and inadequate materials are used in place of those designed to be used in the support of a bridge or building, for instance, and the use of such materials is determined to have been a contributing factor to the structure's subsequent collapse, those responsible for the use of such materials may be found liable in a product-liability or negligence action for a plaintiff's injuries resulting from the collapse.
 Obtain Expert Assistance from The Killino Firm's Highly Experienced Legal Team
The Killino Firm's experienced team of accident attorneys, personal-injury attorneys, product-liability attorneys, car-accident attorneys, auto-accident attorneys, truck-accident attorneys, motorcycle-accident attorneys, brain-injury attorneys, and wrongful-death attorneys will provide you with highly competent and aggressive representation in your pursuit of justice from those responsible for your injuries. We will fight your case with the assistance of the best experts available to see that you obtain the compensation to which you are entitled.
Photo by Martha T (05-23-13 Skagit Bridge Collapse) [CC-BY-2.0 (http://creativecommons.org/licenses/by/2.0)], via Wikimedia Commons