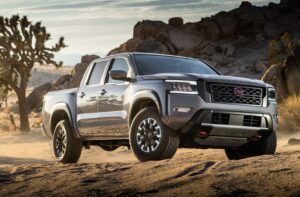 If you own a Nissan Frontier or Titan pickup truck, expect to be hearing from the automaker soon.
Starting November 1st, Nissan will be issuing recall notices to the owners of more than 203,000 Model Year 2020 through 2023 Frontier and Titan pickups. Apparently, a defective parking brake mechanism could cause some of those vehicles to rollaway unexpectedly while parked.
The Killino Firm's Auto Defect Injury Lawyers are committed to ensuring that anyone harmed due to a faulty Nissan parking brake are fairly and fully compensated for their pain and suffering. If you were injured or lost a loved one in a rollaway accident involving a recalled Nisan Frontier or Titan pickup truck, please call our law firm toll-free at 877-875-2927 to speak with an attorney and learn more about your legal rights.
Timeline of the Latest Nissan Pickup Truck Recall
In documents filed with the National Highway Traffic Safety Administration (NHTSA) on September 7th, Nissan identified the issue as "non-engagement of the parking pawl" affecting more than 203,000 Frontier and Titan pickup trucks equipped with 9 speed transmissions that were manufactured at the company's Canton, Mississippi plant between.
In June, potential non-engagement of the parking pawl had already prompted Nissan to recall Model Year 2020-2022 Nissan Titan and Frontier vehicles built from December 13, 2019 to June 14, 2022. At the time, the company attributed the issue to "contact between the edge of the parking pawl and the boss on the transmission case."
In July, however, the Canton facility notified Nissan that a Model Year 2022 Nissan Frontier vehicle produced after June 14, 2022 had moved after being place in the 'P" Park position. After looking into the incident, Nissan collected the transmission and sent it to the supplier (JATCO) for further investigation. In August, JATCO informed Nissan that the issue appeared to be different than the problem that prompted the earlier recall, and likely related to insufficient lifting force of the parking pawl caused by friction between the parking rod and parking wedge.
By the end of August, Nissan had initiated, and subsequently expanded, a quality hold on all Model Year 2020-2023 Titan and Frontier vehicles and Model Year 2023 Z pending investigation. A stop shipment from the Canton plant was also implemented.
Nissan decided to move forward with the recall on September 1st.
What Should I Do If I Own a Recalled Nissan Frontier or Titan Pickup Truck
According to Nissan, more than 10% of trucks examined (11 out of 83) at its Canton, Mississippi facility exhibited issues with parking pawl engagement. So far, however, no accidents or injuries have been reported in connection with the issue.
The Nissan pickup truck recall affects vehicles produced between December 13, 2019, and August 25, 2022. In addition to the United States, the trucks were also sold in Canada and Mexico. Nissan Titan and Frontier owners can determine if their pickup truck was included in the recall by visiting the NHTSA and entering the 17-digit vehicle identification number.
Nissan will begin notifying owners of the recall on November 1
Nissan's investigation is ongoing, and a final recall remedy remains in the works. Once a fix has been identified, the company will send a letter to owners with details on obtaining the needed repairs. Until then, owners of recalled pickups are being advised to use the parking brake every time they park their vehicle.
"If the parking pawl does not engage, an affected vehicle may move after placing the shifter into 'Park,'" the NHTSA report said. "If the customer does not engage the parking brake, potential for movement of the vehicle increases the risk of injury or crash."
How Can I Stay Alert for Vehicle Recalls?
There's a chance this recall is only the first associated with this particular defect, as the automaker is still working to determine if any other Nissan or Infinity vehicles are affected.
Unfortunately, vehicle recalls are anything but rare. In fact, manufacturers announced 966 safety recalls affecting more than 53 million vehicles, vehicle components, and automotive equipment in 2019 alone. According to the NHTSA, some of the most high-profile recalls in recent years have included:
Tens of millions of Takata air bags, the largest recall in U.S. history,
More than 1.7 million Harbor Freight jack stands, which could collapse and injure people around or underneath a vehicle.
More than 2.1 million Denso fuel pumps, which could fail and result in a stall that causes a crash.
In June Ford issued a recall for about three million vehicles over similar rollaway concerns. That same month, Goodyear recalled tens of thousands of defective RV tires linked to dozens of injuries and deaths since 1998
While every automotive recall isn't high-profile, all are urgent. To protect yourself and your family from dangerously defective vehicles, parts, and equipment:
Use NHTSA's Recalls Lookup Tool as noted above.
Download the SaferCar app and let it check automatically for you.
If your vehicle does have a recall, call your automaker's local dealer to schedule the free repair.
Sign up at gov/Alerts to be notified by email if your vehicle is affected by a future recall.
If you suspect your vehicle suffers from a safety defect that isn't part of a current recall, contact the NHTSA online or by calling the Vehicle Safety Hotline at 888-327-4236, Monday through Friday, 8 a.m. to 8 p.m. ET.
Contact Us
Our Defective Product Lawyers have successfully represented the victims of recalled vehicles and automotive components, ensuring they're fully compensated their medical bills, lost wages, pain and suffering, and other associated damages.  If you were injured or experienced the wrongful death of a loved one due to a Nissan Frontier or Titan roll-away accident, and you'd like to speak with an experienced attorney, please do not hesitate to contact the Killino Law Firm at 1-877-875-2927.