Outdoor products manufacturer YETI recently recalled nearly 2 million soft coolers and gear cases over hazardous, high-powered magnets likely to cause severe or fatal injury if swallowed.
The Killino Firm's defective product lawyers believe the victims of preventable injuries and wrongful deaths should receive compensation for their pain and suffering. If you or a loved one were hurt by a detached magnet on a recalled YETI cooler or gear case, please call our law firm toll-free at 877-875-2927 to speak with an attorney and learn more about your legal rights.
1,399 Reports of Magnet-Lined Closures Failing on YETI Coolers and Gear Cases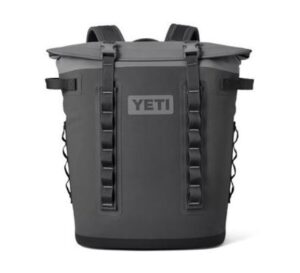 According to a notice posted on the Consumer Products Safety Commission's (CPSC) website, the YETI recall involves 1.9 million soft coolers and gear cases with magnet-lined closures that could degrade or fail, allowing the high-powered magnets to come loose and detach.
YETI has received 1,399 reports of the magnet-lined closures degrading or failing, including reports of missing or detached magnets. So far, however, there have been no reports of magnet ingestions or injuries.
Specific YETI products affected by this recall include:
YETI M30 Soft Cooler 1.0 and 2.0
YETI Hopper M20 Soft Backpack Cooler
YETI SideKick Dry Gear Case
The coolers and gear cases have a main-pocket closure lined with high-powered magnets enclosed in a heat-sealed plastic strip. The M20 Soft Backpack Cooler measures about 18 inches wide and 18 inches high; the M30 Soft Cooler 1.0 and 2.0 is about 25 inches wide and 17 inches high; and the SideKick Dry Gear Case is about 11 inches wide and 7 inches high. The recalled coolers and gear cases were available in various colors and had the brand name YETI displayed on the front. A hang tag with the product name is attached to the coolers and gear cases.
The recalled YETI coolers and gear cases were sold at Dick's Sporting Goods, ACE Hardware, Academy Sports + Outdoors, YETI, and other stores nationwide and online at www.yeti.com and www.amazon.com from March 2018 to January 2023. The YETI SideKick Dry Gear Case sold for around $50, the YETI  Hopper M20 Soft Backpack Cooler sold for $325, and the YETI SideKick M30 Soft Cooler products sold for between $300 and $350.
Consumers who purchased a recalled YETI cooler or case should immediately stop using the products and visit www.yeti.com to receive a full refund or replacement product.
Recall Was the Second for YETI Since 2020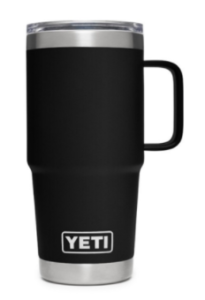 This is not the first time YETI has recalled a dangerous product in recent years.
In November 2021, the company recalled more than 241,000 YETI Rambler® 20 oz Travel Mugs with Stronghold Lids because of a defective magnet lid that could allow hot liquid to spill from the mug, posing an injury and burn hazard. YETI received two reports of the magnetic slider ejecting after being sealed with hot liquid. No injuries were reported.
The recalled travel mugs were sold in various colors, including Black, Seafoam, Navy, Ice Pink, Northwoods Green, Graphite, and Copper. They could be identified by the date code – 34204010 – printed on the travel mug base.
The recalled travel mugs were sold at YETI stores nationwide and online at www.yeti.com in October 2020 for about $35.
Consumers were advised to immediately stop using the Rambler 20 oz Travel Mug with Stronghold Lid and visit yeti.com for instructions on returning the lid. The recalled mugs could also be returned to any YETI store for a full refund.
What to Know About High-Powered Magnet Injuries
High-powered magnets are considered to be among the most dangerous consumer products available today. Because they are so strong, if more than one tiny magnet is swallowed, they can attract to each other across tissue, cutting off blood supply to the bowel and causing blockages, tissue injury, perforations, severe infection, and even death.
High-powered magnet injuries often involve children. In fact, according to a study recently published in the journal Pediatrics, the number of kids admitted to U.S. emergency rooms due to swallowing small objects, including high-powered magnets, almost doubled from 1995 to 2015. Of those who swallowed more than one magnet, 71.1% required hospitalization.
In 2012, the CPSC banned the sale of high-powered magnet toys for kids. Unfortunately, the toys returned to the market shortly after a federal court overturned the rule in December 2016. Magnet-related calls to local poison control centers rose more than 440% once the ban was lifted.
Signs and symptoms of magnet ingestion include:
Choking incident in the vicinity of magnets
Nausea or vomiting
Diarrhea or constipation
Fever
Severe abdominal pain
Ingestion of a high-powered magnet requires immediate medical attention. If you suspect someone swallowed one or more magnets, head to the local emergency room department for an x-ray as soon as possible, and don't allow the individual to eat or drink until after receiving the x-ray.
High-Powered Magnets Have Triggered Earlier Recalls
Since 2012, the CPSC has announced more than 20 recalls involving products with high-powered magnets that posed an ingestion hazard. While many involved toys and children's jewelry, including magnet desk sets ostensibly intended to be used by adults for entertainment, stimulation, and relaxation, other types of products have been subject to magnet-related recalls.
Tristar Magnetic Trivets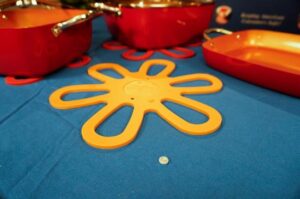 In July 2019, Tristar Products recalled around 350,00 Magnetic Trivets after receiving a report of magnets detaching from a trivet and being swallowed by a child. The child suffered intestinal perforations and blockage, requiring surgery.
The Tristar Products magnetic trivets were sold with Copper Chef 10-Piece Cerami-Tech Nonstick Cookware Sets but could also be purchased separately. The trivets attached to the bottom of hot metal cookware, allowing it to be placed on tables, and had four magnets encased in silicone. The sets were available in copper, burgundy, blue, and black colors and included an 11-inch square pot with glass lid, steamer tray, fry basket, 11-inch fry pan with glass press, 9.5-inch square pot with glass lid, a cookbook, and two magnetic trivets.
The recalled Tristar Magnetic Trivets were sold on QVC from October 2017 through October 2018. The cookware sets cost between $75 and $120. The trivets cost $10 if purchased separately.
Consumers were advised to immediately stop using the trivets and place them out of the reach of children. Tristar Products provided free replacement trivets.
Cinmar Travel Maps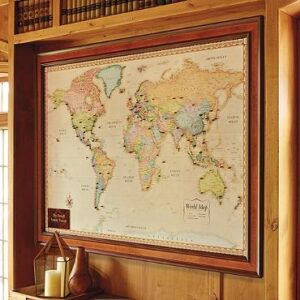 In August 2016, Cinmar recalled around 4,500 magnetic travel maps due to the hazard posed by the 50 magnetic markers included with the sets. Fortunately, there were no injuries reported in connection with this recall.
The magnetic travel maps were sold exclusively at Frontgate retail and outlet stores and online at www.frontgate.com from October 2015 through March 2016 for about $225.
Consumers were advised to immediately stop using the magnetic markers that came with the product, keep them out of reach of children, and dispose of or recycle them. Cinmar provided replacement magnets.
Jo-Ann Fabrics Craft Kits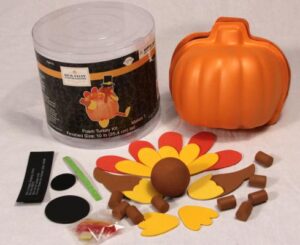 In November 2012, Jo-Ann Fabrics recalled around 1,800 Foam Pumpkin Turkey Craft  Kits because magnets holding the pumpkin shell pieces together could loosen, posing an ingestion hazard to young children.
The product was an adult seasonal craft item that, when assembled, resembles a turkey with a pumpkin-shaped body. The kit came with various foam pieces used to decorate the outer pumpkin shell and six small magnets that held the pieces together.   They were sold exclusively at Jo-Ann Fabric and Craft Stores nationwide from August 2012 to October 2012 for approximately $8.
Consumers were advised to immediately stop using the recalled kit and return it for a full refund to any Jo-Ann Fabric and Craft Store.
Fortunately, no injuries were linked to the kits.
Contact Us
Our defective product lawyers have the resources and experience to ensure the victims of negligent injuries and wrongful death receive the compensation they deserve. If you or a loved one were hurt due to a recalled YETI cooler or gear case, and you'd like to speak with an attorney, please do not hesitate to contact the Killino Law Firm at 1-877-875-2927.