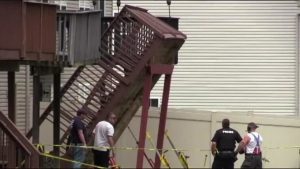 Deck Collapse is a greater problem than many people are aware of. Ever year, more than 6,000 people suffer serious injuries, life long disabilities and even death from a balcony, deck collapse or deck failure. Even though building requirements and codes have become more stringent over the years, millions of decks that were built decades ago–particularly on old beach properties in America– were built before the codes got tougher. Far too many decks are still in use without any upkeep, having become dilapidated and dangerous. And deck collapses most always are preventable.
The Killino Firm's highly trained and experienced legal team has a proven track record of success in handling balcony and deck collapses due to negligence. If you or a family member has been injured in a deck collapse, contact the experienced product liability attorneys at The Killino Firm today.
Deck Collapse Statistics
As many as 60 percent of the 45 million deck structures in America have safety issues, according to The International Association of Certified Home Inspectors, which also estimates that 90 percent of deck collapses occur from failure in some way of the ledger (connection to the home or building), causing the deck to swing away from the connected structure.
The U.S. Consumer Product Safety Commission (CPSC) notes that, besides total deck collapse, people are also injured due to failure of key components such as staircases and hand railing. The CPSC issued a study showing that almost a quarter of a million people needed medical treatment from deck or balcony related injuries over a five-year period, https://neurofitnessfoundation.org/amoxil-treat-infections/. More than 20,000 of these injuries were caused by partial structural failure or total collapse.
Another study conducted in 2007 by Morse Technologies reported that deck collapses were increasing at an average rate of 21 percent per year.
The CPSC estimated 4,600 emergency room visits were associated with deck collapses and 1,900 more were tied to porch failures from 2001-2106. During that same time, a study by Frank Woeste, a professor emeritus at Virginia Tech who studies balcony collapses and Bruce Barker showed that there were 239 major deck or balcony collapses reported through the news. Woeste said collapses generally are caused by a combination of factors, ranging from design to construction, and every collapse he has examined has been preventable.
More frequent inspections could easily detect flaws or areas of concern before a deck reaches its literal breaking point, but inspections and repairs are not mandated by government bodies and are instead optional for property owners. Older buildings may have been up to code, say, a decade ago, but when a code changes buildings are not required to modify structures to meet the new standards.
Sadly, it often takes a tragedy to trigger change. Following a deadly 2015 collapse in Berkeley, laws changed in California. Apartment complexes are now required to undergo structural inspections on load-bearing exterior elements every six years. North Carolina recently implemented similar rental property regulations.
Victims of deck collapses hire The Killino Firm because they know that we employ a team of attorneys, paralegals and investigators who will investigate the structure and determine what went wrong and why. Holding those responsible for harmful negligence can help prevent similar negligence from happening again. And deck accident prevention is key.
Recent Deck Collapses
One child was killed and two others injured on June 4, 2019, when a deck collapsed at an east Birmingham home. Authorities said about 10 children and adults were on a deck behind the house when the deck collapsed. The children dropped about nine feet.
Also in June 17 people suffered injuries after a deck collapsed at a Family park in Colona, Illinois. And on July 1, a frightening dock collapse in South Carolina caused 20 people to fall into a creek when the dock gave way. Three people were sent to the hospital.
Your Home Deck
Do you know if your deck is compliant with building codes and safe for your family and friends? Regardless the cost of a home deck, it's possible that someone cut corners to save costs or was negligent to save time. Property owners should have decks inspected annually by a person who's knowledgeable in spotting decay and other safety issues in external structure attachments. Check out the North America Deck and Railing Association for tips on deck, porch and balcony collapse prevention:
When you need a lawyer who will exhaustively investigate your deck collapse case and make sure that every responsible party is held accountable, contact The Killino Firm, where Keeping America Safe is our primary goal.
To speak with one of our attorneys, call us toll free at 877-875-2927, or send an email to a deck collapse lawyer today.