The Holiday Season should be a joyful time.
But as exciting as November and December can be, the weeks between Thanksgiving, Christmas, and New Year's Day are also incredibly dangerous for drivers. Unpredictable weather conditions, overcrowded roads, intoxicated and reckless drivers, and even erratic wildlife are just a few of the hazards that can quickly turn what should be the happiest time of the year into a nightmare.
The Killino Firm's car accident lawyers believe the victims of preventable crashes and wrongful death deserve compensation for their pain and suffering. If you or someone you love was injured or tragically killed in an auto accident over the holidays, call our law firm toll free at 877-875-2927 to speak with a top personal injury attorney and learn more about your legal rights.
Driving in Winter Weather
While a fresh snowfall might be ideal for fostering the holiday spirit, those flakes aren't much fun when you're behind the wheel. Not only do snow, sleet, and other adverse weather conditions add to the stress of holiday driving, but they also significantly increase the risk that you'll experience a serious or fatal accident.
According to the Federal Highway Administration, the United States sees around 5,891,000 motor vehicle accidents annually. Approximately 21% of these crashes – nearly 1,235,000 – occur during snowstorms and other adverse weather events. Weather-related collisions kill an average of 5,000 people and injure over 418,000 others every year.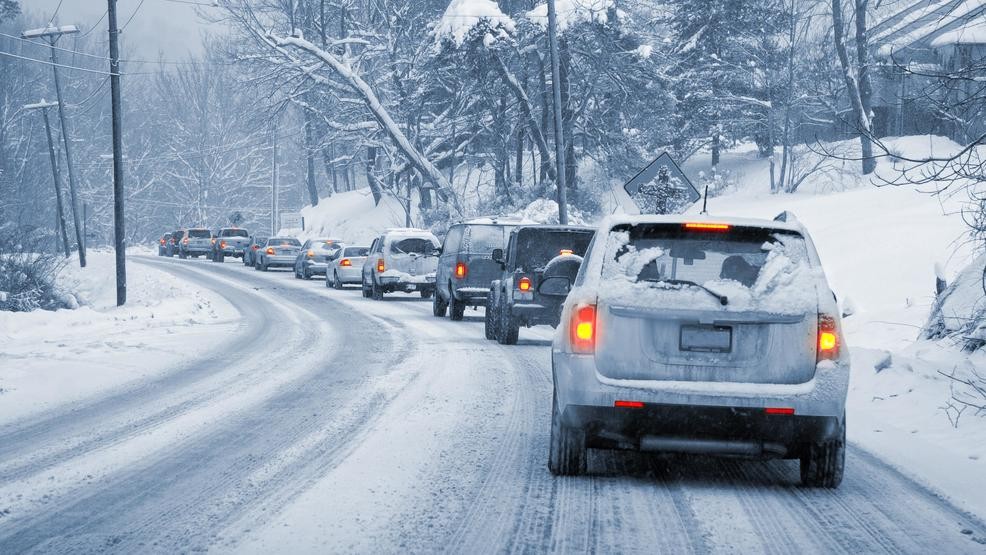 Winter hazards are among the leading contributors to weather-related crashes. Sudden snow squalls can catch drivers off guard and are notorious for causing multi-vehicle accidents in the winter months. Snow, sleet, slush, and black ice can all make road surfaces challenging to navigate during holiday travel.
To ensure wintry roads and highways won't derail your holiday plans, always:
Have your vehicle reviewed by a certified mechanic before hitting the road.
Check the weather along your route and when possible, delay your trip if you expect bad weather.
Pre-pack blankets and heavy clothing to use in case of an emergency.
Before leaving, notify others and let them know your route, destination, and estimated arrival time.
Maintain a safe speed on snowy or icy roads. Accelerate and decelerate slowly. Remember, it will take longer to stop on a snow-covered or slick surface, so increase your following distance to five to six seconds.
Have roadside assistance contact information on hand in case an incident occurs on the road.
Keep a cell phone and charger with you at all times. But never use your phone or text while driving.
If winter weather does leave you stranded:
Stay with your vehicle. Not only will you be safer and warmer, but you'll also make it easier for rescuers to find you.
Tie a brightly colored cloth to the antenna of your vehicle or place a cloth at the top of a rolled-up window to signal distress. Keep the dome light on at night.
To prevent carbon monoxide gas from leaking into your vehicle, make sure the exhaust pipe isn't clogged with snow, ice, or mud.
Stay warm. Use the blankets you packed and anything else that's available — floormats, newspaper, and paper maps — to insulate your body from the cold.
Only run the engine and heater long enough to warm the vehicle compartment. This will help to conserve fuel.
Intoxicated Driving During the Holidays
According to the National Highway Traffic Safety Administration (NHTSA), someone dies from drunk driving every 48 minutes. In 2016, 781 people lost their lives to an intoxicated driver during December alone. Impaired motorists kill an average of 300 people from Christmas through New Year's Day every year.
Holiday office parties, family celebrations, and end-of-the-year events all supply plenty of opportunities to overindulge, and even the most careful driver can throw caution to the wind when they're impaired. But drunk driving is against the law in all 50 States, the District of Columbia, and Puerto Rico, and you can be sure most law enforcement agencies will be increasing patrols and DUI checkpoints during the months of November and December.
To prevent tragedy this Holiday Season:
Make a plan for getting home safely if you're attending a holiday party, event, or gathering. Designate a sober driver, or plan to use public transportation or a ride-hailing service.
Don't ever drive while intoxicated, even if you live nearby. Call a ride, stay with a friend, or book a hotel if you plan to drink.
Everyone metabolizes alcohol differently, so don't rely on the "one drink per hour" rule if you're driving.
Make a 100% commitment to sobriety if you're acting as a designated driver.
Contact local law enforcement if you see an intoxicated motorist.
If a friend is about to drive impaired, take away their keys and arrange for them to get home safely.
Fatigued and Stressed Drivers
With so many people heading to the mall or hitting the highway to visit friends and family, drivers are more likely to feel rushed, stressed, and tired during the holidays. Stressed and tired motorists are more likely to speed, drive while distracted, engage in other reckless behaviors, and even fall asleep behind the wheel.
To lower the risk of an accident in the midst of holiday chaos:
Stay focused on the road. Never use a smartphone or text when you're behind the wheel.
On longer trips, take a short break every so often to restore your energy and refocus. Share driving responsibilities with others if possible.
Drive defensively. Be aware of what other drivers around you are doing, and keep an eye out for reckless or impaired motorists.
Accidents Involving Deer and Other Wildlife
Animals are more likely to wander onto roads and highways in the late fall and early winter, when the days become shorter, nights colder, and food scarcer. And while the odds of a deer strike are only about 1 in 167 during most of the year, the likelihood doubles during mating season in October, November, and December.
According to the Insurance Institute for Highway Safety, 1.65 million deer-vehicle collisions occur each year in the United States, resulting in 200 deaths, tens of thousands of injuries, and over $3.6 billion in vehicle damage. To avoid hitting deer and other wildlife:
Slow down, especially between the hours of 6:00 p.m. and 9:00 p.m. That's when deer are most active.
Look out for deer-crossing signs and wooded areas where animals are likely to travel. If you commute along the same route every day, make a mental note of where and when you regularly spot animals.
To improve visibility, use your high beams at night when traffic permits.
Don't swerve if you see an animal, as you could lose control of your vehicle. Slow down as quickly and safely as you can. Remember that your odds of surviving a collision are better if you hit the animal rather than another car.
Buckle up. According to the Insurance Institute for Highway Safety, 60% of those killed in animal-vehicle collisions weren't wearing their seatbelts.
Don't rely on vehicle-mounted "deer whistles." Animals are unpredictable, and there's no evidence that these products do anything to minimize risk.
If you do hit an animal, move your vehicle safely off the road and call the police or animal control. Never attempt to touch an injured animal.
Contact an Experienced Car Accident Lawyer
Unfortunately, you could still become the victim of a holiday car accident, even when you drive safely and take all possible precautions. If you or someone you love were injured or killed due to another driver's negligence, recklessness, or impairment, the Killino Firm's Auto Accident Lawyers have the knowledge and experience to ensure you're treated fairly and receive the compensation you deserve. Please contact us for a free consultation at 1-877-875- 2927.