If you own a Class A motorhome or RV, you might want to check your tires.
Goodyear has finally recalled tens of thousands of RV tires linked to dozens of injuries and deaths since 1998. While the tires were discontinued more than 20 years ago, federal regulators are concerned that some could still be in use today.
The Killino Firm's Defective Tire Lawyers believe the victims of catastrophic Goodyear tire failures deserve compensation for their pain and suffering. If you were hurt or lost a loved one in an RV crash and believe a recalled Goodyear tire was to blame, please call our law firm toll-free at 877-875-2927 to speak with an attorney and learn more about your legal rights.
Goodyear G159 Tire Recall: What's the Problem?
The Goodyear tire recall involves more than 173,000 G159 tires size 275/70R22.5 manufactured between 1996 and 2003. Although these tires were designed for use on stop-and-go inner-city trucks and rated for roads with maximum speed limits up to 65 mph, they were frequently installed on larger Class 2 RVs, which typically travel longer distances and at faster highway speeds. According to the National Highway Safety Administration (NHTSA), the recalled tires are more likely to experience catastrophic tread separations and blowouts under these conditions compared to similar tires made by Goodyear.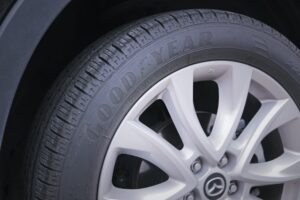 In one case detailed by the NHTSA, a G159 tire installed on the front of an RV failed as a family was returning from a vacation. The driver heard a loud pop and lost control of the vehicle, crossed the median, and hit an embankment. The driver was paralyzed, and three other passengers suffered broken spine and pelvic bones.
Goodyear RV tire failures occurred relatively early in the tires' service life and continued to increase as higher state speed limits led to motorhomes being driven farther and faster, the NHTSA said. In 1998, shortly after the G159 was introduced, states began raising their maximum speed limits to 75 MPH. That same year, Goodyear received the first significant injury claim related to a failure in the G159. Injury reports involving the recalled tires increased dramatically after 1998, reaching a peak in 2003. Goodyear also received reports of deaths each year from 2002 to 2006.
How Goodyear Concealed G159 Tire Failures from the NHTSA and the Public
According to the NHTSA, Goodyear knew that some G159 tires could fail and cause severe or deadly crashes as early as 2002. However, the company routinely settled product liability claims filed in the wake of such accidents and convinced courts to seal associated documents.
"Goodyear's penchant for secrecy undoubtedly provided an ancillary benefit in preventing injured litigants and their counsel from providing information about G159-related crashes," federal regulators wrote in a recent letter to Goodyear. "NHTSA was not alerted to the extraordinary failure rate of the subject tires" until documents were released in an Arizona case in 2017.
The NHTSA formally asked Goodyear to recall G159 tires and threatened the company with a public hearing and court action if it failed to do so. After initially declining the request, Goodyear announced on June 7th that it would voluntarily recall the tires. However, the company continues to deny claims that they are defective and asserts that it acted to "address risks shown to occur when the tire was used in an underinflated or overloaded condition" on specific motorhomes. Goodyear added that the RV manufacturers were responsible for communicating appropriate load standards to drivers.
However, in its February letter, the NHTSA pointed out that tire overloading and underinflation are common among RV owners and are foreseeable conditions. Although Goodyear launched a customer satisfaction campaign to replace some of the tires in 2002, the agency asserted that the company should have instead announced a recall.
I Have Goodyear's Recalled Tires. What Should I Do?
Goodyear discontinued sales of G159 size 275/70R22.5 roughly 17 years ago. However, the NHTSA is concerned some RV owners may have the tires on their vehicle or set aside as a spare. The agency is urging anyone who owns, rents, or uses an RV or truck with 22.5-inch rims to ensure these tires are not used on their vehicle.
It's also possible that the recalled tires remain available to purchase through online marketplaces. It is illegal under federal law to sell recalled tires or other motor vehicle equipment.
Drivers with impacted tires can obtain a free replacement from a Goodyear Commercial Tire and Service Network location or an authorized Goodyear commercial truck tire dealer immediately. Visit goodyearrvtires.com or goodyeartrucktires.com to locate the nearest retailer or call 866-353-3847.
Goodyear is also offering $500 in exchange for impacted tires that have not been fitted on an RV. Those vehicle owners should contact Goodyear Consumer Relations at 800-592-3267 for information on the exchange process.
Contact Us
Our Defective Products Lawyers have the resources and experience to ensure the victims of recalled Goodyear tires are fairly compensated for their medical bills, lost wages, and other damages incurred due to catastrophic tread separation or blowout. If you were injured or lost a loved one to a Goodyear tire failure and you'd like to speak with an experienced attorney, please do not hesitate to contact the Killino Law Firm at 1-877-875-2927.