People who ride an all-terrain vehicle (ATV) and Recreational Off-Highway vehicle (ROV) enjoy the thrill and exhilaration of off-road adventure, but far too often these vehicles cause serious injuries and even death.  Many ATV and ROV accidents maybe in part be due to driver error, but a defective auto part is far too often involved—and recalled.
ATV Facts
Before starting up your ATV, you might want to consider these facts about hidden dangers of these powerful machines, provided by the Consumer Product Safety Commission (CPSC):
About 135,000 people are injured every year due to ATV accidents.
Over 700 people are killed in these accidents every year. Approximately 1/3 of the people killed in ATV accidents each year are under the age of 16.
Since the early 1980s, more than 14,000 people have been killed while riding an ATV. Over 3,000 of them have involved children who were still under the age of 16.
In 2009 and again in 2014, the CPSC determined that "there may be unreasonable risks of injury and death associated with Recreational Off-Highway Vehicles (ROVs) and it proposed safety standards detailing hazard characteristics.
At The Killino Firm we believe that all-terrain vehicle manufacturers have a responsibility to American consumers and should be held accountable for making and selling defective products. Our ATV and ROV accident lawyers are experts at digging deep and fighting foreign manufacturers and other companies and individuals that want to save a few pennies but in the process put American's safety at risk.
Defective ATV and ROV Parts
Defective parts can include any part of the vehicle, from the tires to throttle to gas tank. It can be virtually anything. If you have been involved in an ATV or ROV accident and suspect that a defective part caused the incident, you may be able to file a product liability claim.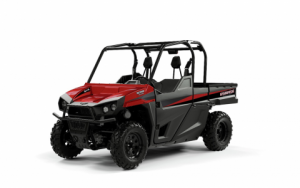 Incredibly, there are no mandatory safety standards in place to govern the design and manufacture of off-road recreational vehicles. (The CPSC defines ROVs from ATVs as "motorized vehicles having four or more low pressure tires designed for off-road use and intended by the manufacturer primarily for recreational use by one or more persons." ROVs are also known as Side-by-Sides for their seating arrangement. ROVs resemble small, rugged, Jeep-like vehicle, accommodating one to six occupants, whereas an ATV is straddled by the rider with handlebar steering.)
ROV Recalls
ROV manufacturers have launched over 47 recalls since 2004 for a variety of defects that could result in fires, such as fuel tanks, hoses, and filters; electrical components; and exhaust systems. Also since 2004, the CPSC launched at least 120 ROV fire In-Depth Investigations, when it began tracking this trend.
Han Lim, a mechanical engineer with the CPSC, has pointed out the lack of any safety standards regarding ROV thermal or fire issues, despite the diverse sources of ignition, such as debris intrusion, fuel tank integrity, and flammable plastic body panels.
Polaris Plagued with Recalls
Recalls seems to plague Polaris ROVs. In 2017 two more recalls involved an ATV that had already been recalled at least two other times, and the other a new model, which likely means these problems aren't getting fixed and indicate a breakdown in the manufacturing process somewhere.
A class-action lawsuit filed in 2018 alleges that Polaris fires are caused by a design defect plaguing multiple models spanning the 2011-2018 model years. It claims that since 2013, based on Polaris' recalls, there have been more than 250 fires, more than 30 severe injuries, and at least three deaths. And worse: According to CPSC and Polaris, some models have burned but have not been recalled and fires continued to occur even in models that had recall repairs.
Honda Fire Hazards
Polaris isn't the only manufacturer creating fire hazards. The recall for all 2016-2017 and some 2018 Honda Pioneer 1000 ROV models for fire and burn hazards further illustrates how trying to combine too much desired market attribute into one ROV without adequate cooling and thermal protection can create fire-prone designs. Honda recalled all 2016-2017 and some 2018 Honda Pioneer 1000 because the "muffler can overheat, causing the plastic heat shield to melt or catch fire, posing a fire and burn hazard to consumers." The Honda Powersports website said the heat shield itself was melting or igniting due to "one engine cylinder misfire condition."
Recent  ATV & ROV/UTV Recalls
This year alone, Consumer Affairs reports the following recalls:
July 2019: Yamaha Motor Corporation U.S.A., of Cypress, Calif., is recalling about 1,500 Yamaha Grizzly ATVs and Wolverine X2 Side-by-Side Vehicles (ROV).
Purchasers were given a defective owner's manual, which shows the correct model on the cover, but the contents are for another model.
June 2019: American Honda Motor Company of Torrance, Calif., is recalling about 82,000 Recreational off-highway vehicles (ROVs). The throttle pedal can stick in the open position, posing crash and injury hazards. The firm has received 15 reports of the throttle pedal sticking in the open position, including six crashes, resulting in a report of a concussion and a broken nose.
March 2019: Kawasaki Motors of Foothill Ranch, Calif., is recalling about 2,600 Kawasaki Mule Pro-MX off-highway utility vehicles. The vehicle's oil cooler hoses can separate and the fuel tank cap gasket can crack allowing fuel to leak, posing a fire hazard. The company has received seven reports of vehicles catching on fire and being damaged. No injuries have been reported.
March 2019:  Arctic Cat Recalls Textron Off-Highway Utility Vehicles Due to Crash Hazard (Recall Alert) The lower front suspension arm can fail, posing a crash hazard.
June 2018: The CPSC recalled Can-am ATVs because of a fire hazard. This is one of many recalls the company has implemented to deal with potential fuel leaks.
The problem is the fuel tank. When users open the gas cap, fuel can spray out, creating a potential fuel leak and fire hazard. The company has received six reports of fuel spraying out, but so far, no injuries or fires have been reported.
A Response from the ATV Manufacturers
ATV manufacturers have not made any major changes to their products, despite the increase in accidents and injuries – and recalls. The CPSC has called ATVs "deadly" and the government can't seem to tighten regulations regarding defective design. Polaris seems to be in denial of its repeated defects. For instance, when a child was injured in a Polaris ATV accident, the company just wished the child a "speedy recovery".
At The Killino Firm, we recognize that ATV and ROV injuries often change our clients' lives forever. As a result, we provide personalized and caring representation, while zealously fighting for our clients at every stage of their cases, including trial, if necessary.
Victims of defective ROV and ATV injuries and recalled ROVs and ATVs hire The Killino Firm because they know we will thoroughly investigate every defective all-terrain vehicle injury and that our clients will receive all of the compensation they are entitled to. We employ a team of attorneys, paralegals and investigators knowledgeable about these accidents.
We also understand that our clients have suffered serious, at times catastrophic, injuries, and need a law office with an all-terrain accident lawyer that will deal with the insurance companies and guide the clients and their families through the maze of medical care and treatment that they face.