Every summer, millions of Americans retreat to the shade of a beach umbrella, patio umbrella, or pop-up canopy as they relax at the shore, enjoy backyard barbecues and other outdoor meals, and lounge poolside at home or while vacationing at hotels and resorts. Unfortunately, most remain completely unaware that these popular summer implements can pose a serious hazard to both the user and anyone who happens to be nearby.
For example, beach and patio umbrellas with inadequate anchors, instructions, or warnings can become dislodged, taken away by the wind and strike unsuspecting victims, resulting in impalements, other serious injuries, and even wrongful death.
The canopies used to provide shade on RVs and backyard decks or at outdoor cafés, restaurants, and bars can also cause severe and fatal injuries in the event they retract or collapse without warning.
The Killino Firm's umbrella injury lawyers believe the victims of defective products and negligent acts deserve compensation for their pain and suffering. If you or someone you love was injured or tragically killed by a beach umbrella, patio umbrella, or canopy, call our law firm toll free at 877-875-2927 to speak with an attorney and learn more about your legal rights.
Around 3,000 People Treated for Umbrella Injuries Every Year
According to the U.S. Consumer Products Safety Commission (CPSC), around 3,000 people are rushed to the hospital every year for injuries related to all types of umbrellas. In fact, more than 31,000 beach umbrella injuries were reported in the United States between 2008 and 2017.
In many of these incidents, the umbrella was left unsecured or unattended, uprooted from the sand by a gust of wind, and launched into nearby children and adults who were unable to protect themselves from the airborne projectile.  Depending on the wind and the site of impalement, a beach umbrella can strike a person with such force to cause serious injury and/or death.
Despite these dangers, the CPSC does not currently regulate beach umbrellas, nor are there any voluntary safety standards for these products.
In 2019, Sens. Robert Menendez of New Jersey and Mark Warner of Virginia, along with Tim Kaine of Virginia and Cory Booker of New Jersey wrote to the Commission seeking detailed information on umbrella-related injuries. The senators also encouraged the CPSC to improve safety standards and launch an awareness campaign to educate the public about the dangers of beach umbrellas.
Common Umbrella and Canopy Injuries
Unfortunately, it's not just beach umbrellas that pose a danger.
Patio umbrellas, for example, have injured people at their homes or while sitting poolside at apartment complexes and condominium residences. Many restaurants and bars also have outdoor areas with tables and market-style umbrellas where patrons can sit out and take in the fresh air while enjoying a meal or drink during the summer months.  But sometimes, establishment owners or their employees fail to secure the umbrella or take other measures to ensure these outdoor spaces are safe.
Patio and beach umbrellas generally weigh anywhere between 20-30 lbs., while pop-up canopies can weigh as much as 150 lbs.  When coupled with the wind speed and velocity, an umbrella can strike with the force of a car traveling at 20 MPH.  Any customers in the path of an umbrella's metal pole or a collapsing canopy will likely sustain significant injuries with the potential to cause life-long pain and suffering, including:
Head Injuries
Lacerations
Broken Bones
Brain Injuries
Broken orbital socket and blindness
Significant neck injuries
Spinal cord damage
Dental damage
Fractured tibia
Closed head injuries.
Defective Umbrellas and Canopies
Sometimes, umbrellas and canopies suffer from manufacturing or design defects that make them inherently dangerous, necessitating the need for a product recall.
Shadescapes Umbrosa Evolution Pool and Patio Umbrella Recall
In October 2018, for example, Shadescapes recalled around 200 Umbrosa Evolution pool and patio umbrellas after receiving more than 20 reports of the umbrellas' arms breaking while in use.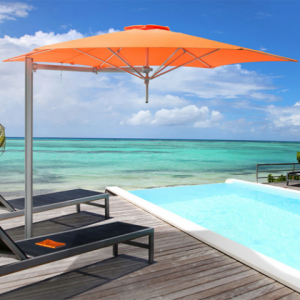 Bed Bath & Beyond Solar Lighted Cantilever Umbrella Recall
In August 2010, Bed Bath & Beyond recalled around 7,600 Solar Lighted Cantilever Umbrellas because a plastic connector that attached to the umbrella arm could break and cause the umbrella to collapse.
The retailer received 21 reports of umbrellas collapsing. Minor injuries were reported in three of those incidents, including a bruise, abrasion, and nausea.

Home Depot Offset Patio Umbrella Recall
In May 2009, Home Depot recalled about 60 Offset Patio Umbrellas because the umbrella pole could tip over and strike a consumer if the collar or sleeve was not removed prior to closing. Home Depot received one report of a recalled patio umbrella tipping over and breaking.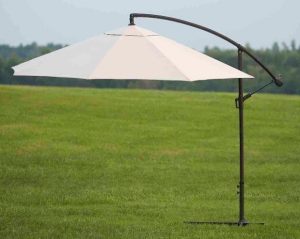 Liability in Umbrella and Canopy Injuries
Considering how easily beach umbrellas, patio umbrellas, and canopies can be swept up by wind or collapse, potentially causing serious or life-threatening injuries, one may ask whether these products could have been designed to be safer?  Could they have been set up differently?  Could these injuries have been avoided?  Who is responsible?
Family beaches and surf spots all over the country are not immune to these hazards and various beaches enforce different rules and regulations on umbrella use.  For instance, some signs merely instruct the public that the umbrellas have to be secure and have to be parallel to lifeguard stands so as not to obscure the view.  Lifeguards will often offer advice on how to properly set up the umbrella, but will not usually set up umbrellas for the beachgoer.
A hotel employee or beach stand operator should be able to set up beach umbrellas taking into consideration the weather conditions, and can be held liable for an accident involving the umbrella. A resort or hotel could also be held liable if an employee placed the umbrella on the beach or swimming pool area in an unsafe and grossly negligent matter.
The management and staff at hotels, resorts, apartment complexes, and condos should be aware that pool decks are frequently subject to windy conditions and take necessary precautions to ensure the safety of guests or tenants.
Umbrella and Canopy Safety
Properly securing outdoor umbrellas and canopies, tilting them away from wind, and closing them while unattended is the best way to avoid possible harm.
BeachUmbrellaSafety.org suggests these safety tips to help prevent injuries from airborne beach umbrellas:
Use safety devices like sandbags to weigh the umbrella down and/or sand anchors with as many tiers as possible
Buy the safest umbrella with features like a fabric, vented top, a sturdy shaft, and sturdy spokes.
Never leave a beach umbrella unattended. Put down the umbrella canopy if you walk away.
Never use a patio umbrella or cantilevered umbrella at the beach, as these types of umbrellas aren't designed with sand anchoring in mind.
Beach and patio umbrellas can be dangerous if they're unable to be opened safely. Always oil the frame joints after taking an outdoor umbrella out of storage for the season and make sure the joints move with ease before use.
Use a heavy stand to keep your patio umbrella in place, and consider using sand bags for extra weight and security. Always close the umbrella in high winds and while not in use.
Secure pop-up canopies with the appropriate tent weights and anchors. Purchase the sturdiest canopy you can find and ensure it's constructed of flame-retardant materials.
Roll up your RV canopy in high winds or if you plan to leave it unattended.
Contact Us
Our umbrella injury lawyers have the resources and experiences needed to ensure the victims of defective or improperly secured beach umbrellas, patio umbrellas, and canopies receive the compensation they deserve.  If you or a loved one were hurt in an umbrella or canopy accident and you'd like to speak with an attorney, please do not hesitate to contact the Killino Law Firm at 1-877-875- 2927.