Motorcycles are becoming more and more popular as a mode of transportation.
But with the approach of warm weather and summer travel, the risk of serious and fatal motorcycle crashes is growing. To avoid tragedy, bikers and the drivers of other motor vehicles must make every effort to share the road safely.
The Killino Firm's Motorcycle Accident Lawyers believe the victims of negligent and reckless motorists deserve compensation for their pain and suffering. If you or someone you love was injured or tragically killed while riding a motorcycle, call our law firm toll-free at 877-875-2927 to speak with an attorney and learn more about your legal rights.
Motorcyclist Overrepresented in Deadly Crashes
According to AAA, motorcycle and scooter sales surged more than 11% in 2020. The market remained strong into the first quarter of 2021, with sales growing by more than 37% compared to the same period last year.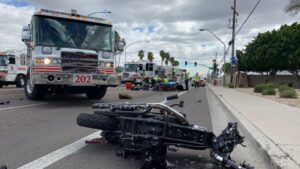 With the arrival of warm weather, more bikers will be taking to the road in the coming weeks and months. Unfortunately, many of these excursions are bound to end in tragedy, as data from the National Highway Traffic Safety Administration indicates motorcyclists are consistently overrepresented in traffic fatality statistics. In fact, the occupants of a motorcycle are 29% more likely to die in a crash than the occupants of cars and other motor vehicles.
At least 5,014 motorcyclists died due to crashes in 2019 alone. An estimated 84,000 were injured, a 2% increase from 2018.
Although motorcyclist deaths had been declining since the early 1980s, they began to increase in 1998 and continued to increase through 2008. According to the Insurance Institute for Highway Safety, motorcycle fatalities accounted for 14% of all crash-related deaths in 2019 and were more than double the number of motorcyclist deaths recorded in 1997.
Motorcycle Accident Causes
As is the case with other motor vehicle crashes, a motorcycle accident is more likely to occur when a biker or other driver is behaving recklessly, speeding, distracted, or operating under the influence of drugs or alcohol.
Although motorcycles are designed to give bikers control around corners, it can be challenging to compensate or correct the vehicle while navigating sharp turns. Wipeouts frequently occur when a motorcyclist takes a corner too hard or too fast or if they strike road debris while rounding a corner. Anytime a motorcyclist wipes out, they risk further injury from other vehicles and possible road hazards.
But by and large, motorcyclists face the greatest danger from motorists who fail to detect and recognize motorcycles on the road. The small size of a bike can make it difficult for even the most attentive driver to see a motorcycle coming.
About 34% of motorcycle fatalities occur at intersections, usually because another motorist attempted to turn in front of an oncoming motorcyclist, misjudging the distance and speed of the bike.
In 2019, there were 2,495 fatal two-vehicle crashes involving a motorcycle and another type of vehicle. In 41% of these crashes, the other vehicles were turning left while the motorcycles were going straight, passing, or overtaking other vehicles. Both vehicles were going straight in 22% of the crashes.
When a motorcycle fatality resulted from a two-vehicle crash, the motorcyclist was more likely to be hit head-on rather than from the rear.
Common Motorcycle Accident Injuries
About 80% of all motorcycle accidents result in injury to a rider. The most common motorcycle crash injuries include:
Traumatic Brain Injury (TBI): According to the NHTSA, about 15% of helmeted riders and 21% of un-helmeted riders suffered TBI due to a crash. These types of injuries include concussions, brain contusion, and skull fractures. Severe TBI can result in coma and even death.
Spinal Cord Injuries: Riders can suffer damage to their spinal cord, especially if thrown from a motorcycle. Severe spinal cord injuries may result in permanent disability, including full or partial paralysis.
Lower Extremity Injuries: Lower extremity injuries are the most common injuries suffered by riders in a motorcycle accident. Leg injuries are the most frequent lower extremities injuries seen after a crash, and bone fractures are more common than soft-tissue injuries.
Internal Injuries: Riders can sustain organ damage through either blunt force trauma or when something sharp – glass or road debris – penetrates the skin.
Broken bones: A rider might suffer a broken leg if their bike falls on top of them. Wrist and arm fractures typically occur when a rider is attempting to catch themselves to break a fall.
Road Rash: A rider will experience "road rash" if their body comes in contact with the road. The severity of these skin abrasions can range from mild to severe. Serious cases of road rash require medical attention, are highly vulnerable to infection, and often cause permanent scarring.
Motorcycle Safety Tips for Drivers
Motorcyclists are far more vulnerable in an accident, as motorcycles are less stable and less visible than other motor vehicles. Their riders also lack the protection of an enclosed vehicle.
To reduce  risk of a serious or fatal crash, motorcyclists should:
Check tire pressure and tread depth before every ride. Ensure brakes, headlights, and signal indicators are in working order.
Make sure any cargo is secure and balanced. Adjust suspension and tire pressure to accommodate the extra weight.
Always ride with a helmet that meets the U.S. Department of Transportation Federal Motor Vehicle Safety Standard. Look for the "DOT" symbol on the back.
Wear other protective gear, including gloves, a jacket, and pants.
Ensure you're visible to other motorists by keeping your lights on, wearing bright colors, and using reflective tape, even on daytime rides.
Position yourself in the lane where drivers can see you.
Follow all traffic laws, always use turn signals, and combine hand signals with turn signals whenever possible to make your intentions absolutely clear.
Never drive impaired. Almost half of the fatally injured riders in 2019 were driving under the influence of alcohol.
Those driving cars and other motor vehicles should:
Check mirrors and blind spots for motorcyclists before entering or leaving lanes of traffic and at intersections.
Signal before changing lanes or merging with traffic. Even when signaling, allow enough time to determine a motorcyclist's intention before you proceed.
Ensure you have time to maneuver or stop in an emergency and Increase following distance behind motorcycles.
Never try to share a lane with motorcycles. Remember, they have the same right to lanes as any other vehicle.
Take extra care when making a left turn. It's safest to let the motorcycle pass to avoid turning in front of the rider.
Pay special attention at intersections. Nearly one in three motorcycle fatalities happens at a roadway intersection.
Never driver under the influence of drugs or alcohol.
Every motorcyclist and driver should avoid distractions and give the road their full attention. And always be sure to obey posted speed limits and drive to conditions.
Contact an Experienced Motorcycle Accident Lawyer
Unfortunately, even the most experienced and cautious biker can get caught up in an accident through no fault of their own. If you were hurt or experienced the wrongful death of a loved one due to another driver's negligence, recklessness, or impairment, the Killino Firm's Motorcycle Accident Lawyers have the knowledge and experience to ensure you're treated fairly and receive the compensation you deserve. Please contact us for a free consultation at 1-877-875- 2927.