Medical Malpractice Misdiagnosis
At The Killino Firm, we know medical malpractice, particularly cases involving misdiagnosis. We recognize the devastation a wrong diagnosis can have on a patient and his or her family. As a result, we advocate aggressively on behalf of patients and families affected by worsened health conditions or death from misdiagnosis.
If you or a loved one suffered traumatic injuries or death as a result of a misdiagnosis or another medical mistake, contact The Killino Firm for experienced and aggressive representation.
Commonly Misdiagnosed Diseases
Misdiagnosis is among the leading forms of medical malpractice to occur in the U.S. This type of medical error occurs when a doctor fails to diagnose a fatal condition properly, delays a proper diagnosis, or fails to diagnosis an illness altogether. Some of the most commonly misdiagnosed diseases are those with vague symptoms, those that share similar symptoms to other diseases, or conditions that lack awareness. A short list of examples include the following:
Various types of cancer, the most commonly misdiagnosed condition
Infection is commonly misdiagnosed, second to cancer
Aortic dissection, a tearing of a major artery in the heart
Heart attack can be misdiagnosed when the symptoms aren't 100 percent clear; in some cases heart attack may only carry symptoms of heaviness in the chest and nausea
Clogged arteries can often be misdiagnosed for being out of shape
Type 2 Diabetes has mild symptoms that develop gradually overtime
Chronic kidney disease may be missed during the early stages
Misdiagnosis Can Be Fatal
When someone is ill, they trust that what their doctor is telling them is accurate. When a person is not properly diagnosed, the consequences can be fatal, especially in diseases where an early diagnosis can produce a higher cure rate.
Contact a Medical Misdiagnosis Lawyer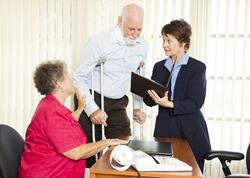 If you've been devastated by a medical misdiagnosis, you owe it to yourself to obtain representation from a qualified and aggressive medical malpractice attorney who will fight to ensure the responsible healthcare provider is held accountable.
Patients and families continue to turn to The Killino Firm because they know we will do whatever it takes to secure the full amount of compensation available. Our firm was founded with a mission to protect victims of medical malpractice and other wrongdoings by fighting aggressively on their behalf. For information about your specific case, contact one of our medical misdiagnosis attorneys today.