Emergency Room Malpractice Lawyer
At the Killino Firm, we know emergency room malpractice. Our medical malpractice and injury lawyers have extensive experience handling injury and wrongful death cases involving negligence. We recognize that injuries from emergency room errors can result in lifelong physical challenges, severe disabilities and emotional trauma for our clients and their families.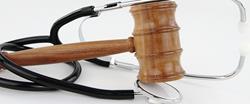 If you or a loved one has been a victim of emergency room malpractice, please contact the Killino Firm for compassionate and experienced representation. We are committed to handling every case with care and personalized attention, while at the same time fighting aggressively on behalf of the injured and their families.
Emergency room malpractice occurs much more than we would like to admit, and has been linked to serious injuries including:
Brain damage
Organ damage
Development/ advancement of fatal health conditions such as cancer
Common Causes of Emergency Room Errors
In many cases, patients who visit an emergency room have a condition that needs immediate assistance. Due to the high stress nature of an emergency room, and the high volume of patients, mistakes are often made. Some of the most common causes of emergency room errors include:
Understaffing
Under training
Not keeping the appropriate records
Unsanitary conditions
Delayed treatment of life-threatening conditions
Misdiagnosis of a fatal condition
Experienced Representation You Can Trust
At the Killino Firm, we will listen thoroughly to your individual story and fight aggressively to make sure you recover the full amount of compensation you are entitled to. Our lawyers are well trained and prepared to go up against large hospitals and their insurance companies.
We will provide you with a thorough investigation and will work with medical experts and other professionals, when necessary, to dig deep beneath the surface to find out not only what happened but why. If you or someone you love has sustained an injury as a result of an emergency room error or another form of medical malpractice, contact the Killino Firm today.
We will discuss your individual circumstances in a private, no-obligation consultation and explain your legal rights and options in depth. Contact our injury attorneys today and experience the Killino Firm Difference.