Medical Malpractice Legal Cases
At The Killino Firm, we have extensive experience handling a broad range of medical malpractice legal cases. Our firm is committed to providing aggressive and focused representation for individuals and families devastated by medical mistakes.
If you are seeking a qualified attorney with the knowledge, dedication and resources it takes to ensure a substantial recovery in your case, contact The Killino Firm today.
The Killino Firm in the Media
The medical malpractice attorneys at our firm are known for their aggressive approach and attention to detail. We will dig deep beneath the surface to determine exactly what happened and why. We will then fight zealously to ensure you and your family recovers the maximum amount of compensation payable by law.
Known for our commitment to excellence and success, The Killino Firm has been recognized nationally as a leading injury and wrongful death firm. From CNN to ABC, we make the news because of our true commitment to making America a safer place for every man, woman and child. To view our lawyers in the media, please visit our media center.
Medical Malpractice Cases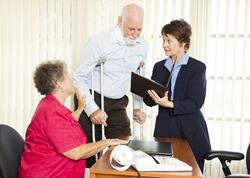 The Killino Firm is equipped to handle a broad range of medical malpractice legal cases, including those involving:
Doctor mistakes
Prescription errors
Misdiagnosis
Delayed diagnosis
Delayed treatment
Surgical errors
Wrong site surgery
Anesthesia errors
Birth injuries
Delayed treatment in emergency situations
Lawyers Experienced in Medical Malpractice
Our lawyers are aggressive litigators who are not afraid to challenge large hospitals and their insurance companies. We believe in obtaining justice for those who have suffered as a result of another's negligence, and will do whatever it takes to hold the appropriate person liable. Responsible parties might include:
Doctor
Nurse
Surgeon
Anesthesiologist
Pharmacist
Radiologist
X-ray technician
Emergency room technician
Paramedic
Midwife
If you or someone you love has fallen victim to a medical mistake, contact a medical malpractice lawyer at The Killino Firm for qualified legal help in your case. We provide free consultations for all prospective clients.