Baby Car Seat Injuries
Children are the most precious cargo we can carry in our vehicles. That is why it is vital that the car seats they are in are safely manufactured and will protect them in the case of an accident. Sadly, not all baby car seats are created equal. Some car seats can have defects that can cause serious injury and even result in the death of a child.
According to the US Centers for Disease Control and Prevention, motor vehicle injuries are the leading cause of death among children in the U.S. Too often these deaths are the result of a child car seat not working in the way it was meant to and putting a child's life at risk. Unfortunately, car seat defects are not discovered until somebody is in an accident and a child is badly injured.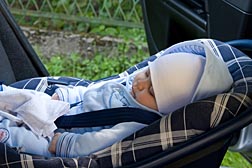 Common defects with baby car seats include problems with handles, poor construction, flammable materials, buckle defects, clip defects, improper padding and separation of the base from the shell. Injuries to children include traumatic brain injuries, skull fractures, concussions, broken bones, scratches and bruises.
If your child has been injured or died as a result of a defective child car seat, it is vital that you hold the responsible parties accountable for their actions. Even if your child has survived the accident, he or she could face a lifetime of costly medical procedures and specialized care. At The Killino Firm we can fight to make sure your family is fully compensated for all expenses related to a defective car seat injury.
The Killino Firm is concerned with making sure that our children are as safe as absolutely possible. That is why we filed a nationwide class action lawsuit against Mattel to force the toy maker to pay for the testing of children who were at risk of lead poisoning from its products. In 2007, Mattel recalled 1.5 million toys after it was discovered that they contained lead paint, which is toxic and can cause irreversible brain damage and other injuries in children.
At The Killino Firm, we fight so that children can be kept safe from car seat manufacturers and other companies or people that want to save a few pennies but in the process put children's lives at risk. We represent the children of families across the United States.
From CNN to ABC to Fox and around the world, we make the news because we are dedicated to assuring that our children feel safe and secure. That's The Killino Firm Difference.
When you need a lawyer who will exhaustively investigate a defective car seat injury and make sure that every responsible party is held accountable, contact The Killino Firm, where Keeping America Safe is our primary goal. To speak to one of our attorneys, please fill out the form on this page, call us toll free at 877-875-2927, or send an email to a product liability attorney today. We will respond promptly to your inquiry so that you can experience The Killino Firm Difference.