Philadelphia Auto Accident Reports
At the Killino Firm, we know highway safety. We are familiar with the number of serious accidents reported in Philadelphia, each year, and are equipped to provide relief for the families of auto accident injury victims. Our highly qualified auto accident attorneys recognize the physical, emotional and financial hardships that so often result from motor vehicle accidents, and therefore strive to recover the maximum amount of compensation for our clients.
Auto Accident Reports: Philly Police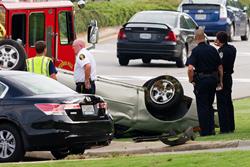 There are hundreds of occurrences of preventable motor vehicle accidents in the state of Philadelphia each year. In an effort to reduce the number of auto accidents caused by unsafe road conditions, the Philadelphia police department has a place on its website where people can report unsafe conditions such as:
Potholes and other street defects
Pavement markings
Problems with street and alley lights
Faulty traffic signals
Problems with street signs
Sewer inlets and flooding
Road obstructions such as dead animals
Hazards caused by harsh weather conditions such as snow buildup and ice
This effort by the police department is only a step in the large picture. Other common causes of auto accidents include:
Human error, negligence
Driver fatigue
Drunk driving
Driving under the influence of drugs
Talking on the phone
Sending text messages
Not paying attention to the road
If you or a loved one was involved in an auto accident and you believe you may have a legal claim, contact the Killino Firm for experienced and aggressive legal representation. Our personal injury and wrongful death lawyers have recovered millions of dollars for clients like you — individuals who have suffered catastrophic injuries and families whose loved ones died as a result of a motor vehicle crash.
We have extensive experience in handling all types of motor vehicle accidents, including auto accidents, trucking accidents, motorcycle crashes, bus accidents and more. Call an auto accidents attorney today and schedule a free discussion of your case.