Ammar Wasfi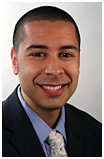 Associate
Philadelphia, Pennsylvania
Phone: (215) 569-1299
Toll Free: (877) 875-2927
Fax: (215) 569-2741
Email Attorney Wasfi
Ammar Wasfi, an associate at The Killino Firm, PC, brings to bear over 10 years of litigation experience to fight relentlessly for his clients in all manner of personal injury claims. He is particularly passionate about representing individuals and loved ones who have suffered needlessly where corporate greed or callous self-interest have been placed above the health, safety and well-being of others. He played a critical role in developing the theory, strategy, and overall advocacy in The Killino Firm's successful class-action against Mattel and in The Killino Firm's successful class-action resulting in a nationwide recall of 450,000 tires.
Attorney Wasfi pairs astute research and investigative skills in advocating with zeal and diligence for his clients. A non-exhaustive list of the types of cases Attorney Wasfi has handled includes:
Medical malpractice injuries
Catastrophic auto injuries
Defective products injuries
Defective drug injuries
Injuries stemming from defective conditions on premises
If you or someone you love has been seriously injured due to the negligence of another, you should contact Attorney Wasfi immediately and toll free at 877-875-2927. He will respond promptly to your call so you can experience The Killino Firm Difference.
EDUCATION
Michigan State University College of Law; 2006
University of Delaware; 2003
BAR ADMISSIONS
Pennsylvania
New Jersey
New York
AFFILIATIONS
Attorney Wasfi is a member of the Philadelphia Bar Association and the New Jersey Bar Association.
HOBBIES AND INTERESTS
Attorney Wasfi is an avid Yankees fan.