Medical Malpractice
At the Killino Firm, we know medical malpractice. We understand that even the slightest medical mistakes can change our clients' lives forever and we strive to ensure all responsible parties are held accountable for their actions, even if we must file a medical malpractice lawsuit. We serve as tireless advocates for individuals and families affected by medical mistakes and provide compassionate, committed representation at every state of the process.
Types of Medical Malpractice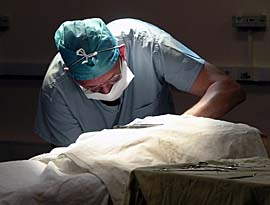 Sadly, doctors, nurses, specialists and other healthcare providers make life-changing mistakes everyday. According to the Institute of Medicine of the National Academy of Sciences, between 44,000 and 98,000 hospital patients die annually as the result of hospital errors and infections, even though their untimely deaths could have been avoided.
At the Killino Firm we have extensive experience in handling all types of medical malpractice matters, including:
Mistakes made during childbirth
Misdiagnosis/ failure to diagnose a disease or condition such as cancer
Failure to properly treat a serious illness or medical condition
Failure to prescribe the correct medication or correct dosage
Failure to review test results correctly
Victims of medical malpractice are entitled to compensation for their losses including pain and suffering, payment of medical bills for past and future treatment, and loss of earnings and earning capacity.
Experienced Medical Malpractice Lawyers
Medical Malpractice claims are complicated and often require multiple experts to verify the mistakes that were made. Because of the complex nature of medical malpractice matters, it is important to have an experienced attorney fighting aggressively on your behalf.
Victims of medical malpractice hire The Killino Firm because they know that we will examine every medical record to discover what really happened, and that we will zealously fight to assure that our clients receive all of the compensation they are entitled to. Because these cases are complex, we employ a team of attorneys, paralegals and investigators knowledgeable about medical malpractice.
We also understand that our clients have suffered serious injuries, such as brain injuries, and need a law office that will deal with the insurance companies and guide the clients and their families through the maze of medical care and treatment that they face.
At The Killino Firm, we treat every client and every case with the same intensity and commitment. When something goes wrong, the lawyers and staff of The Killino Firm are prepared to investigate every aspect of the doctor's or hospital's conduct in order to discover not only what happened, but why. Using cutting edge technology, we evaluate every option until we determine who was responsible, and we then proceed aggressively so that our Clients receive all of the compensation they are entitled to. That's The Killino Firm Difference.
When you need a lawyer who will exhaustively investigate a medical malpractice case and make sure that every responsible party is held accountable, contact The Killino Firm, where Keeping America Safe is our primary goal. To speak with one of our attorneys, please fill out the form on this page, call us toll free at 877-875-2927, or click here to contact a medical malpractice attorney today.
We will respond promptly to your inquiry so that you can experience The Killino Firm Difference.