Nationally-Recognized Personal Injury Lawyers
The Killino Firm handles the full spectrum of personal-injury cases, and is quite adept at handling those in which compensation for catastrophic and life-altering damages is sought, but is also well-versed in handling other cases along the spectrum. The firm has offices around the country from coast to coast, including Pennsylvania, New York, Florida, and California. Our accident lawyers, personal-injury lawyers, birth-injury lawyers, brain-injury lawyers, malpractice lawyers, and wrongful-death lawyers are licensed in those states and more, and many have pro hac vice admissions in other states and jurisdictions, as well.
Read More
Infographics
Faulty Ignition, Faulty Leadership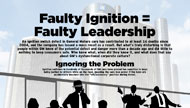 An ignition switch defect in General Motors cars has contributed to at least 16 deaths since 2004, and the company has issued a mass recall as a result. But what's truly disturbing is that people within GM knew of the potential defect and danger more than a decade ago and did little to nothing to keep consumers safe. Who knew what, when did they know it, and what does that say about GM's dysfunctional corporate culture? View the infographic
Featured Cases
Product Liability—Mattel Toys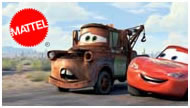 The Killino Firm filed a class action lawsuit against the major toy company, Mattel Inc., seeking to compel them to pay for testing of children who may have been exposed to toxic levels of lead paint in 1.5 million popular toys. Read more about Product Liability – Mattel Toys ».
Submit Your Case
Auto Injuries—Chinese Tires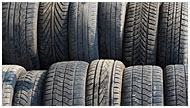 A fatal truck accident lawsuit filed by The Killino Firm prompted a national recall of 450,000 Chinese-made light truck tires. During the case investigation, investigators discovered that the manufacturing company left out a crucial component in the tires, resulting in the fatal truck crash. Read More about Auto Injuries – Chinese Tires ».
Submit Your Case
Wrongful Death—Tainted Heparin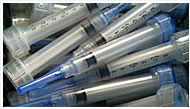 The Killino Firm filed a wrongful death lawsuit against Tyco Healthcare on behalf of the family of a man who died from the defective medication. The lawsuit claims that the company showed negligence by dragging its feet to announce the recall of the drug. Read more about Wrongful Death – Tainted Heparin ».
Submit Your Case
The Killino Firm Difference
Keeping America Safe
The Killino Firm was founded with a commitment to keeping America safe. Our experienced personal injury lawyers and wrongful death attorneys have recovered millions of dollars in compensation for injury victims and their families; however, our true accomplishment is promoting a safer place for every American man, woman and child. For instance, we were responsible for a national recall of 450,000 faulty Chinese-made tires, and filed a class action lawsuit against Mattel, Inc., seeking to compel them to provide free medical testing for children who were exposed to dangerous levels of lead in their toys.
The Killino Firm Difference
The Killino Firm has a proven record of success, excellence and integrity both inside and outside the courtroom. We represent clients in a wide range of cases, including airplane crashes, automobile and truck crashes, automobile defects, insurance company bad faith, defective toys, tire defects, defective products, medical malpractice, and toxic chemicals. We are aggressive litigators, as well as compassionate attorneys, and are known for employing innovative strategies and courtroom techniques. We regularly consult with leading experts so that we can provide our clients with the most effective and efficient representation. Each attorney and paralegal on The Killino Firm team understands that our clients often have complex needs, and we devote our energy to addressing each client's unique needs and concerns.Learn More...